Big budget benefits for fuel retailers
FUEL retailers looking to upgrade ageing fuel storage tanks or buy new tanks for unmanned sites have been handed the perfect opportunity after the May budget.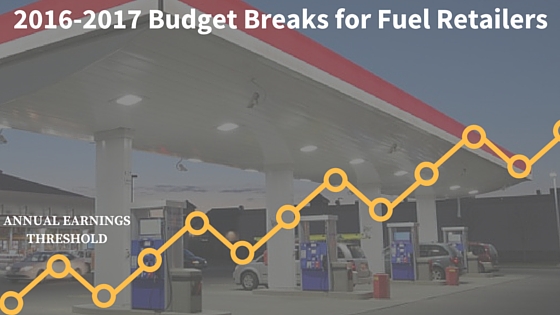 The Australasian Convenience and Petroleum Marketers Association has welcomed changes to the definition of small business that will mean more qualify for a range of tax concessions on offer, including the $20,000 instant asset write-off.
Excluding fuel revenue is the game changer
From July 2016, businesses with a turnover of less than $10 million qualify for the write-off.
Even more relevant to fuel retailers, the determination of the annual earnings threshold excludes revenue earned from fuel sales, opening the door for many more small retailers to take full advantage of the benefit.
ACAPMA chief Mark McKenzie says the change means a fuel retail business with a total annual turnover of $18 million, where fuel revenue totals $14 million and convenience store and other business revenue $4 million, would be deemed to be only earning the $4 million.
That means it could claim benefits including the instant asset write-off, a lower company tax rate of 27.5 per cent, and an 8 per cent unincorporated small business tax discount of up to $1000 for small businesses with a turnover of less than $5 million.
"The Federal Budget provides strong recognition of the role of small business in building a stronger national economy," Mr McKenzie said.

"The continued accommodation of the special nature of fuel retail businesses where much of the revenue amounts to tax collected for the government and is not retained by the business is a very welcome one.

"The budget will deliver immediate benefits to fuel businesses, and members are encouraged to contact their accountants to discuss how best to take advantage of the new concessions that have been provided."
Now is the time to upgrade fuel storage infrastructure
With biofuels mandates now in place in QLD and NSW and environmental regulations tightening, small retailers could save tens of thousands by investing in new fuel tanks now and writing off the cost in full at tax time.
Independent service station operators on older sites are increasingly looking to mitigate the risk posed by old underground steel tanks with preventative remediation and replacement work.
Identifying and replacing ruptured tanks early can not only save hundreds of thousands of dollars in emergency remediation and environmental clean-up works, but allows time to put a plan in place that could save you even more by minimising business downtime, which can be up to 12 weeks in some situations.
Options to minimise disruption and future risk include using self-bunded on-ground fuel tanks that are fully environmentally compliant, easy to maintain and easy to install.
They can be put in place as a temporary solution while underground tank replacement or decommissioning works, and are increasingly being used as a permanent solution, particularly for unmanned fuel retailing sites.
To find out more, ask the experts at FES Tanks.