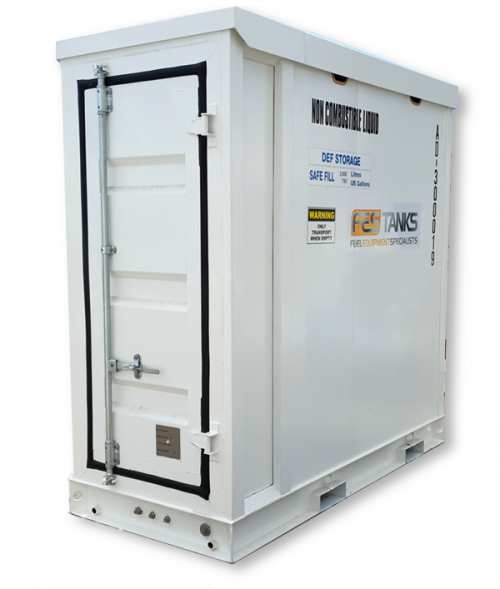 Modern diesel vehicles are designed to use AdBlue diesel exhaust fluid (DEF) to reduce nitrogen oxide emissions and meet environmental regulations.
F.E.S. are AdBlue tank and distribution specialists. Our AdBlue storage tanks and dispensing systems ensure safe DEF storage and minimise the risk of contamination during storage and transfer. From designing the right system for you to supply and installation, our expert team will support you with the right solutions to safely store and dispense your AdBlue products.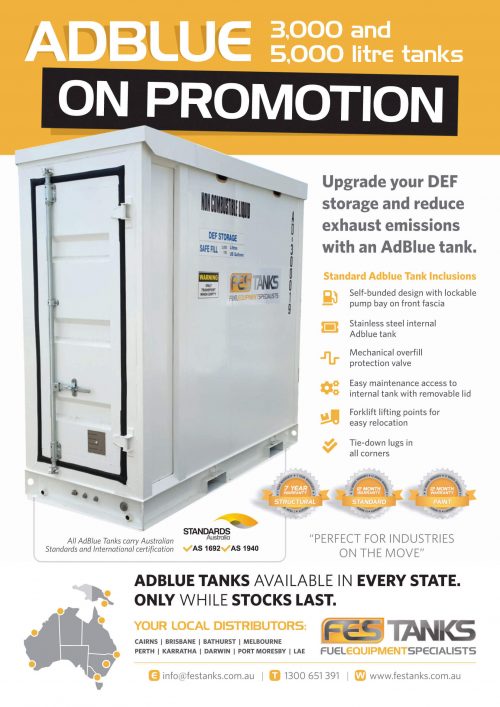 AdBlue (aqueous urea solution or AUS32) is a premixed solution of 32.5 per cent high purity urea and 67.5 per cent deionised water. It reduces the pollution released by modern diesel engines that have a Selective Catalytic Reduction (SCR) system installed.
Increasingly, vehicle manufacturers are making an SCR system an essential part of their engines in heavy vehicles, cars, buses and tractors to meet emissions reduction requirements.
In vehicles AdBlue is stored in its own tank, separate from the diesel, and is added to the outgoing exhaust gas by a dosing control system. Inside the catalytic converter the urea becomes ammonia when heated. It reacts with the NOx in the emissions to convert it into nitrogen, water and a small amount of carbon dioxide. Using AdBlue DEF, these systems can cut up to 90 per cent of Nitrogen Oxide emissions produced through the exhaust, turning them into harmless nitrogen and steam.
Why do I need an AdBlue storage tank?
While AdBlue is non-toxic, non-flammable, odourless and biodegradable, it is corrosive for some metals and materials and will cause them to rust or dissolve. This means it's important to use the right equipment when transporting, storing and pumping AdBlue products.
Storing your DEF in inappropriate tanks can cause degradation and costly downtime – contaminated or degraded AdBlue can destroy a vehicle's SCR system. Even a small amount of contamination – including traces of diesel, oil or rust – can lead to serious issues.
Your storage tank is the frontline of defence to:


Minimise exposure to heat and sunlight – It's important to keep AdBlue out of direct sunlight and at a maximum temperature of around 25 degrees, as evaporation of water content can change the product's composition.
Keep water and particulates out – Containers also need to be sealed so water and particulates can't enter and change the product specifications.
Protect the environment – Urea solutions can be harmful to surface and ground water, so storage also needs to follow best practice environmental guidelines. This includes using a non-corrosive storage material like stainless steel, putting secondary containment measures in place to prevent spills and ensuring all fittings and dispensing equipment are made of materials that won't react and corrode.
Maximise shelf life – Storing your AdBlue appropriately can mean an additional 12 months of shelf life and ensure optimum performance and reduced down time for your vehicles.
Stand alone FES ADBLUE Tank options
Adblue Tank Standard Inclusions
Integrated AdBlue Diesel Tank Systems
Integrated AdBlue/diesel tanks provide a complete cost-effective refuelling solution for modern diesel fleets from the one unit, keeping your installation costs down while making optimum use of space. As with all our Grande tank range, F.E.S. integrated AdBlue/diesel Grande tanks in sizes up to 110,000 litres (10,000/100,000) are designed to handle larger fuel storage requirements and are ideal for depots and to service the needs of transport fleets. They feature double-walled steel construction with dual compartments including a stainless steel AdBlue compartment to retain product quality. Designed for easy transportation and installation, their sloping edges allow for higher capacity and water run-off and a 10 per cent higher safe fuel capacity than other similar tanks.
AdBlue dispensing systems
Pairing your tank with the right AdBlue dispensing equipment made from non-corrosive materials will ensure the fluid is transferred safely to vehicles, minimising the risk of contamination. It's important that seals, hoses, insulation and o-rings are made from quality materials that won't react with the product. It's also important to regularly test and clean dispensing equipment for crystallised AdBlue and to check nozzles are in full working order and won't jam or remain open for too long.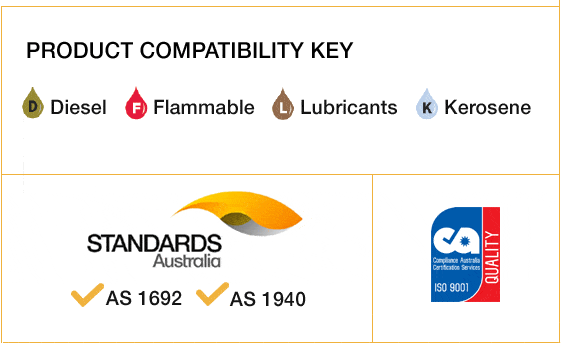 Ask the experts at F.E.S. today about the right solution for your needs