Fuel Storage Solutions for the Mining Industry
Operating in the mining and metals sector? Fuel is still one of your biggest overheads.
Diesel fuel still powers much of the industry, from the heavy machinery to the generators that are the major power source at remote mining sites.
At an open pit iron ore mine, fuel used in haulage alone makes up about 30 per cent of energy consumption, with other equipment taking up to another 30 per cent.
Reducing your fuel costs starts with the right fuel storage systems. Whether that be a small mobile fuel storage tank or a large scale bulk fuel farm, our industry experts have the knowledge to help you make the most of the fuel that keeps your business running.
Fuel Supply, Storage and Security
Top 3 Benefits to a F.E.S. TANK
Common Mining Equipment Problems Caused by Poor Fuel Quality
In mining, downtime for machine maintenance can cost as much as $550,000 per vehicle per year, without factoring in potential damage caused by contaminated fuel.
If you need replacement parts, it can mean weeks out of action for critical equipment. That's why it's essential to treat your fuel as the huge investment it is.
Particulate contamination, water and diesel bugs are all common problems that affect fuel quality and cause critical issues for transport operators.
Diesel bugs grow best in the interface between water and fuel and can spread rapidly, spreading particulates in the fuel and generating corrosive by-products that can cause severe damage to tanks and engines.
Other operational issues caused by contaminated fuel:
F.E.S. self-bunded fuel tanks help mining companies take control of fuel quality with a range of flexible, secure and easy-to-maintain bulk fuel storage and fuel management solutions.
Tank Integrity – Meeting Environmental Requirements For Your Daily Operations
As well as keeping your fuel fresh and stable to ensure your mine site operates at optimum efficiency, you need to keep it contained.
Leaks in tanks or faulty valves and fittings can not only cost you thousands in lost fuel, but could also mean hefty clean-up bills under environmental legislation.
Complying with Australian environmental standards means ensuring your fuel storage is bunded, which can mean major work.
If you've built a bund around a tank farm, dealing with rainwater that collects within the contained area is also a critical issue.
The potential of minor fuel spillages into the water means it needs to be properly drained through a tank bund valve so it doesn't pollute surrounding water sources.
Self-bunded tanks are an increasingly popular solution for the mining and metals industries. They eliminate the need for expensive and inflexible external bunding work and dramatically improve the probability of being able to recover your fuel in a useable condition.
Monitoring Fuel Use in Mining Operations
Checking and maintaining tanks regularly can also save you big dollars in the long run.
When the bottom line is critical, every drop counts, which is why many mines have achieved major savings through measures as simple as reducing idling time and unnecessary stopping.
The condition of haulage routes is another key factor in fuel consumption, with dry and hard-packed roads offering the best fuel economy.
Research shows for a mining operation moving 20 million tonnes over a set haulage path, wet conditions will increase diesel use by 820,000-litres.
Tracking fuel consumption and finding out early about any discrepancies or fuel theft can save huge potential losses.
After all, when you're mining every litre of fuel lost or stolen not only loses you the cost of that litre, but also your fuel tax credits on that amount – and the figures add up quickly.
Modern fuel management systems are helping mining and metals operators monitor tank levels and track consumption down to the individual machine. These systems can feed you information on when fuel reaches critical levels in tanks and on usage by different operators in real time, so you can be easily alerted to any abnormal changes.
Having this information can also help you spot potential tank or equipment maintenance issues early before critical failures lead to an expensive loss of production capacity.
That is why we created our unique range of fuel storage tanks to give you a convenient and flexible fuel management solution.
Self Bunded Storage Solutions for the Mining and Metals Industry
THE BLOC RANGE - 1,000 litres - 10,000 litres
Our BLOC range of fuel storage tanks are designed for applications where small to medium amounts of fuel storage is required. They are our most popular range because of their compact sizes, flexibility and the ease at which they can be moved or transported. More information can be found here.
GRANDE TANKS - 12,000 litres - 110,000 litres plus
Large efficient fuel storage solutions for operators with lots of equipment using large amounts of fuel annually.
The GRANDE range is for the big mining and metals operators that move at scale. Large volumes of fuel required to drive a large fleet of vehicles and heavy equipment. These tanks have a self-contained pump bay that is spec'd out to suit your exact requirements.
These large volume aboveground storage tanks offer a great design and drop solution with all internal fit-out done off site.
Large-scale mining operations that use tens of thousands of litres of fuel over peak periods are well suited to the GRANDE offering. Remember no underground works required here. Drag and drop. Job done. More information can be found here.
Both the BLOC and GRANDE tank range are compatible with multiple fuel types
Mining Management Solutions
A complete fuel management solution for mining companies
Our solutions for mining companies include:
Custom Design and Build Services
We offer a custom 'design and build' refuelling solution for trucking, freight and logistics companies. From storage, pumping and distribution to the latest monitoring and security technology.
Whatever your challenge on site, we guarantee to improve your fuel logistics over the long term. Better fuel logistics that deliver operational and financial savings for your business.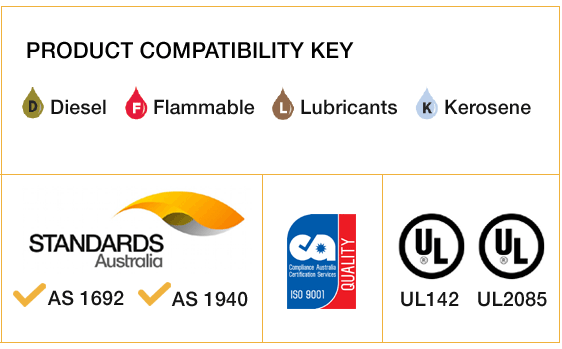 All F.E.S. tanks come with a standard 12-month warranty. They're also protected by a 7-year warranty on structural manufacturing defects and 12-month warranty on manufacturing paint defects.
Ask the fuel experts at F.E.S. TANKS about the right solution for your needs