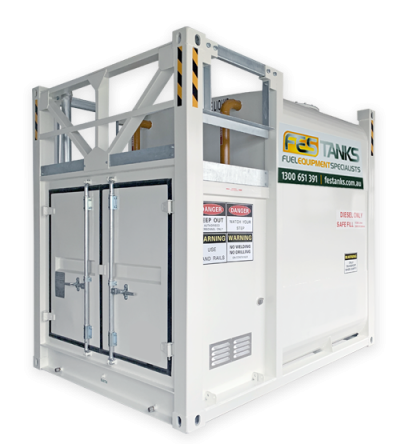 The GRANDE range of aboveground self bunded storage tanks provides a safe, convenient and efficient way to store and pump large quantities of diesel, petrol, flammable liquids or lubricants in any location.
A Large Volume Aboveground Storage Tank Solution
Our GRANDE tanks come in a variety of sizes that can store hydrocarbons from 12,000 litres to 110,000 litres as standard. This is our flagship product range for a fast and flexible aboveground self bunded tank solution.
GRANDE self-contained bunded fuel tanks have a built-in pump bay design to deliver a fast and flexible fuel storage and fuel management solution in one unit.
GRANDE tanks are constructed to international ISO shipping container footprints of 20, 40 or 48 foot dimensions and utilize the container lock system. This ensures ease of transport, saving your business time and money.
Our most popular size tanks are the GRANDE 12, GRANDE 30, GRANDE 68 and the GRANDE 110. Other tank sizes are available on a demand and supply basis.
Fuel Supply, Storage and Security
Top 3 Benefits to a F.E.S. TANK
Flexible Fuel Storage, Whatever Size Your Business
If you use large amounts of fuel daily, and need a reliable fuel supply, you need the GRANDE tank range. Our GRANDE tanks are ideal for stand-alone aboveground fuel storage units.
to service a small fleet of vehicles. They're also a popular solution for large scale fuel farms at remote mine sites, because multiple GRANDE fuel storage tanks can be easily connected to create a large volume, high demand refuelling facility.
Bare Tank or Self Contained Fuel Management System
GRANDE tanks are available as bare tanks for simply storing fuel or can be fully fitted with fuel dispensing applications and fuel management systems to suit your exact needs.
An optional built-in pump bay design at the front of the GRANDE tank unit enables the transformation from a simple storage tank into a self-contained fuel management solution system.
We design fuel storage solutions to suit your business and your challenges.
Other Aboveground Fuel Storage Tanks Available In The Grande Range
20,000L Aboveground Fuel Storage Tank
38,000L Aboveground Fuel Storage Tank
55,000L Aboveground Fuel Storage Tank
75,000L Aboveground Fuel Storage Tank
90,000L Aboveground Fuel Storage Tank
100,000L Aboveground Fuel Storage Tank
You won't find a better large volume aboveground fuel storage solution at a better price.
Ask our fuel equipment specialists to quote you the storage and pumping combination that's right for you.