Fuel Storage Solutions for the Farming and Agricultural Sector​
Whether you're helimustering across thousands of acres in WA or growing grain in the wheat belt, the success of your farming and agriculture operation depends on your fuel supply.
That's why FES self-bunded farm fuel tanks and fuel management solutions ensure you have a reliable supply of fuel at the right price while minimising transport costs and keeping your machinery in top condition.
Fuel Supply, Storage and Security
Top 3 Benefits to a F.E.S. TANK
Taking Control Of Your Fuel Supply
ABARES research shows in 2013-14 the national average fuel and oil spend per farm for crop farmers was more than $67,000, increasing to $114,000 for WA farms.
Cattle and sheep farmers aren't immune either – in the Northern Territory, where properties cover huge areas, the average beef farm spent more than $131,000 on fuel in the same year.
Those costs increase when transport is factored in, making exercises in how much fuel to store on farm and when and how to buy an important aspect of business planning for primary producers.
Supply problems can be devastating, particularly in times of emergency.  Put simply, you need to know you have the fuel on hand to do the job. With many farming and agriculture operations relying heavily on road transport, a break in the supply chain can do significant damage to your bottom line.
F.E.S. fuel storage tanks provide a safe and compliant on-farm fuel storage solution.
Our high quality tanks have an in-built secondary containment system that meets all Australian Standards and environmental requirements.
A Secure Fuel Storage Option For Farmers
Time and again, farmers tell us fuel security is at the top of their list of farm fuel issues.
If you're storing large quantities of fuel, theft can cost you thousands of dollars directly, not to mention the cost in lost productivity when storage tanks or machinery tanks in remote locations are drained, delaying essential work.
F.E.S. tanks come with lockable hatches to prevent access to valves. Our fuel management systems and security accessories can help you keep track of fuel distribution and usage to minimise waste and theft.
Keeping Your Fuel and Machinery Safe
There's no point having a huge store of fuel if contaminants like water and algae creep in and spoil it. As well as wasting the initial purchase and transport costs, dirty or contaminated diesel can do significant damage to the machinery that keeps farms working.
Maximising fuel life and minimising waste means staying on top of storage and maintenance issues.
Problems like contamination and losses through leaking tanks or valves can add dramatically to the cost of farm operations, as can the need to replace poorly maintained storage systems.
F.E.S. tanks are designed with easy access to make monitoring and maintenance trouble-free.
Other operational issues caused by contaminated fuel:
It's important to have safe access to tanks for cleaning and refuelling. Safety issues over recent years have included new regulations around overhead tanks, with fuel distributors enforcing tough new Worplace Health and Safety bans around access.
Apart from access problems, tank stability can also be an issue when dealing with overhead storage, with shifting foundations an issue and rust spots or joint weaknesses a risk.
If you're considering upgrading ageing overhead storage tanks, contact us to find out about the best options for your operation.
Self Bunded Storage Solutions for the Agricultural Industry
We created our unique range of self bunded fuel storage tanks to cover all aspects of fuel compliance so you don't have to.
The FES BLOC RANGE of tanks (up to 10,000 litres) is designed for operators with the small to medium amounts of fuel usage. They are our most popular range because of their compact size, flexibility and the ease at which they can be moved or transported. These tanks are like a first stage upgrade to an in-house refuelling solution.
Big commercial farms that use tens of thousands of litres of fuel over peak periods are well suited to our GRANDE offering. Remember no underground works required here. Drag and drop. Job done.
Farm Management Solutions
A complete fuel management solution for the agricultural industry
Our solutions for farmers and agricultural companies include:
Custom Design and Build Services
We offer a custom 'design and build' refuelling solution for trucking, freight and logistics companies. From storage, pumping and distribution to the latest monitoring and security technology.
Whatever your challenge on site, we guarantee to improve your fuel logistics over the long term. Better fuel logistics that deliver operational and financial savings for your business.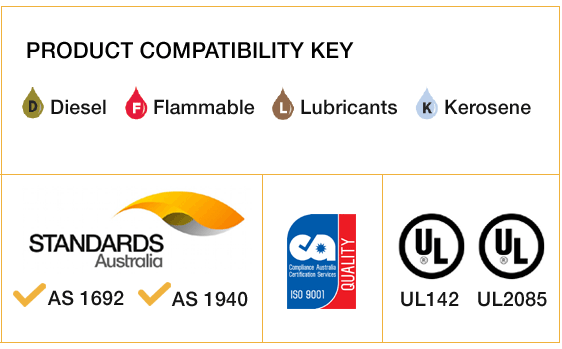 All F.E.S. tanks come with a standard 12-month warranty. They're also protected by a 7-year warranty on structural manufacturing defects and 12-month warranty on manufacturing paint defects.
Ask the fuel experts at F.E.S. TANKS about the right solution for your needs