Service Stations (Fuel Retailing)
Unmanned Service Stations for Fuel Retailing
In a country as vast as Australia, you sometimes need fuel storage solutions that are out of the ordinary. A growing national network of unmanned service stations is helping ensure safe fuel supply in some of our most remote locations.
Fuel Supply, Storage and Security
Top 3 Benefits to a F.E.S. TANK
Fuel Retailing in Remote Locations - The Risks
If you're a fuel retailer, ensuring your fuel reaches your customers in good condition is critical for your reputation. A bad batch can not only cost you big dollars in reparations, but can do long-term damage to your reputation.
When you're storing fuel at remote unmanned service stations, in harsh conditions or in ageing infrastructure, fuel quality can be an issue.

Particulate contamination, water and diesel bugs are all common issues that affect fuel quality and can cause critical failures for vehicles and machinery.
Diesel bugs grow best in the interface between water and fuel and can spread rapidly, spreading particulates in the fuel and generating corrosive by-products that will cause severe damage to tanks and engines. Diesel destabilised by any of these factors will spoil quickly causing problems including poor starting or failure to start, reduced fuel efficiency and increased consumption.
Diesel fuel contaminants can affect engine components with issues like clogged intake valves, premature wear and tear on engine components, reduced air flow and reduced engine power and performance. That can impact service delivery and have far-reaching effects for your customers and critical supply chains, potentially leaving vehicles out of action for weeks at a time.
The best way to ensure a diesel engine's premium performance is to ensure a clean and reliable fuel supply.
Fuel Theft and Fuel Loss - A Multi-Million Dollar Problem for Fuel Retailers
Fuel theft is a growing issue across Australia, costing Australian fuel retailers around $60 million every year, with rural and remote locations popular targets. Addressing theft from unmanned refuelling stations can be a challenge if the issue is not quickly detected.
Fuel loss from old storage tanks, which can be adversely affected by harsh weather conditions including floods and cyclones, can also cause serious damage to your bottom line. If you're storing fuel in older underground tanks, floods can lead to cracks or damage that can destroy your fuel supply or lead to leaks, fuel loss and environmental contamination.
Keeping your fuel safe and in good condition takes careful management and regular monitoring.
When you're operating remote refuelling stations, sending somebody out to read fuel levels and monitor usage can be a major logistical exercise.
Common Problems Caused by Poor Fuel Quality
Integrated Fuel Management Systems for Fuel Retailers
F.E.S. TANKS provides a fully integrated, secure solution for remote and unmanned service stations. Our fuel management systems include petroleum and lubrication dispensing equipment, tanks, flow meters and fuel transfer pumps, spill kits and other fuel accessories.
Our fuel transfer and management systems will also help you keep track of fuel usage and tank levels remotely to ensure supply, measure demand and minimise fuel loss. We have worked extensively with fuel retailers from metropolitan to remote sites and can supply a full range of dispensing equipment that gives our tanks complete remote refuelling capability.
Our fuel management systems mean you can monitor and measure metrics like fuel consumption remotely to help with accounting and budgeting. We can also provide security solutions such as user-account access that make fuel theft virtually impossible.
The F.E.S. Grande Range of Self-Bunded Fuel Storage Tanks
When you buy an F.E.S. tank you're buying the peace of mind that comes with a quality product built for tough environments.
F.E.S. TANKS self-bunded diesel storage tanks are a premium above-ground fuel storage solution for rail yards and rail freight operations. Our F.E.S. Grande range comes in sizes up to 110,000 litres and provides a flexible and easy to maintain alternative to traditional underground fuel storage.
Designed for harsh operating environments with minimal site preparation, their double-walled steel construction eliminates the need for traditional concrete bund walls, site works or containment areas. In self-bunded tanks the dual wall protects the environment against leaks, protects you against fuel loss and saves on excavation and construction work.
Unique features include anti-corrosion coatings and fittings, outlets sited on the side for easy refuelling and dual manways for trouble-free inspection and cleaning.
Another great benefit with the Grande range is that they are fully modular systems, which makes site design simple. Everything, including connecting pipework, walkways and ladders, can be prefabricated and put together on the site within 1-3 weeks, depending on your needs. What's more, our tank design gives our tanks a higher safe fill limit than others of comparable size.
Fuel Storage Solutions for Fuel Retailers
A complete fuel management solution for fuel retailers
Our solutions for fuel retailing include:
Custom Design and Build Services
We offer a custom 'design and build' refuelling solution for trucking, freight and logistics companies. From storage, pumping and distribution to the latest monitoring and security technology.
Whatever your challenge on site, we guarantee to improve your fuel logistics over the long term. Better fuel logistics that deliver operational and financial savings for your business.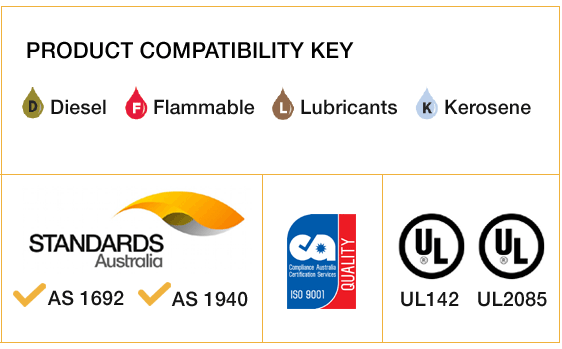 All F.E.S. tanks come with a standard 12-month warranty. They're also protected by a 7-year warranty on structural manufacturing defects and 12-month warranty on manufacturing paint defects.
Ask the fuel experts at F.E.S. TANKS about the right solution for your needs