Fuel Storage Regulations and Compliance
F.E.S. fuel storage tanks are built to exceed Australian and International safety standards to ensure the highest levels of safety and environmental protection while giving you optimum flexibility and storage capacity.
AS1940 Australian Standards for the Storage and Handling of Flammable and Combustible Liquids
AS1692 Steel Tanks for Flammable and Combustible Liquids
AS1657 Workplace access and safety
Need to know what fuel storage regulations apply to your state or territory within Australia? Refer to our statewide directory on Australian Fuel Storage Regulations. Rest assured, our tanks comply with all the requirements.
ISO 9001 - Quality Management Certification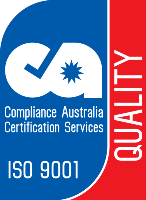 ISO 9001 is defined as the international standard for a quality management system (QMS) within an organisation. It demonstrates the ability of an organisation to consistently provide products and services that meet customer and regulatory requirements. F.E.S. TANKS is ISO 9001 certified and registered to carry the ISO 9001 mark of quality as accredited by Compliance Australia Certification Services (CACS).

CACS is an accredited organisation by the Joint Accreditation Service of Australia and New Zealand (JAS-ANZ), to provide ISO 9001:2008 certifications to organisations that fall within the industrial and commercial sectors.
UL Standards - Accredited in the USA and Canada
UL is an accredited standards developer in the US and Canada. In extending its global public safety mission, UL Standards partners with national standards bodies in countries around the world to develop national standards so as to build a safer, more sustainable world.
UL142 Global standard for tanks holding flammable and combustible liquids
UL2085 Standard for protected above-ground tanks for flammable and combustible liquids
When you buy an F.E.S. tank you're buying the peace of mind that comes with a quality product built for tough environments.

All F.E.S. tanks come with a standard 12-month warranty. They're also protected by a 7-year warranty on structural manufacturing defects and 12-month warranty on manufacturing paint defects.
Tanks are individually certified by Australian engineers and bear the official 'Australian Standards' logo.
Talk to the experts in fuel storage compliance
There's no substitute for experience. When it comes to storing flammable liquids safely and in compliance with relevant national and regional regulations, getting the right advice from the start can save you money, reduce risk and give you peace of mind.
Environmental and safety legislation is different across urban, regional and remote areas, storage volumes, fuel types, business models and storage systems. It can be difficult to keep track of changing requirements.
At F.E.S. TANKS, we have the knowledge you need to choose the right system and ensure it is installed and maintained in full compliance with all relevant legislation.
Our expert technicians can advise you on how to ensure your equipment and your operations are compliant, wherever you are. Talk to your local F.E.S. team or call us on 1300 651 391.
Protecting your investment – individually and independently certified
Your fuel is a valuable investment, which is why getting compliance right is important.
In the event of an accident, your insurer will need to know your fuel storage tanks are certified compliant.
That's why at F.E.S. TANKS, each of our self-bunded fuel tanks is individually certified to UL and Australian Standards by an independent engineer, which means you can guarantee your fuel, your workplace and your bottom line are protected.
Our tanks are fully compliant with Australian and international health and safety standards and are built for easy maintenance, cleaning and inspection. Securely bolted doors open onto a fully self-contained bunded area for safe, measured fuel dispensing and filling.
 These durable tanks are ideal for all types of fuel, including petroleum and diesel.
Protection against fuel leaks
Complying with environmental legislation is more than just ticking a box – getting it right could make an enormous difference to your bottom line.

Fuel leaks are not only costly to your operations but can cost you many times more in clean-up bills. A properly maintained and certified self-bunded tank and refuelling system – including valves, pipes, pumps and hoses – is the best protection you have against fuel leaks that can cause soil or water contamination and six-figure fines.
Ask the experts at F.E.S. TANKS about the right solution for your needs