Trucking, Freight and Logistics
Road Transport is Australia's Lifeline
Your vehicles are the workhorses of your freight and logistics business, so controlling the quality of the fuel you put in them can make a huge difference to your bottom line.
Getting your fuel storage and distribution systems right will help you keep costs down and maximise efficiency. That starts with the right fuel storage systems.
Fuel Supply, Storage and Security
Top 3 Benefits to a F.E.S. TANK
The Cost of Maintaining Trucking Fleets
The average big rig costs close to $200,000 a year to run, of which about two thirds is vehicle costs.
With the average diesel engine overhaul setting you back about $8000, preventative maintenance and keeping your fuel lines clean in your trucking fleet is critical.
Poorly managed diesel fuel is responsible for about 80 per cent of engine failures in the transport industry, and in a time critical environment these failures can cost a business much more than the price of engine repairs.
Diesel fuel contaminants can cause serious problems for your fleet and machinery, affecting engine components with issues like clogged intake valves, premature wear and tear on engine components, reduced air flow and reduced engine power and performance.
In a time-critical environment, that can have serious flow-on effects for on-time delivery and far-reaching effects for your business.
The best way to ensure a diesel engine's premium performance is to ensure a clean and reliable fuel supply.
Need to know what fuel storage regulations apply to your state or territory within Australia? Refer to our statewide directory on Australian Fuel Storage Regulations. Rest assured, our tanks comply with all the requirements.
Protecting Your Investment – Keeping Fuel Safe
New diesel engines are achieving ever better efficiency and performance, but it's important to remember they also require better quality fuel.
Particulate contamination, water and diesel bugs are all common problems that affect fuel quality and cause critical issues for transport operators.
Diesel bugs grow best in the interface between water and fuel and can spread rapidly, spreading particulates in the fuel and generating corrosive by-products that can cause severe damage to tanks and engines.
Diesel destabilised by any of these factors will spoil quickly, and can cause problems including:
If you're in the transport industry, you'll likely have a steady fuel turnover and your tanks will be filled regularly. It's worth talking to an expert to determine what tank size will suit you best – don't just go with what you've had in the past. Keeping your tanks at the optimum level will help minimise reactions with air and water.
Operational issues caused by contaminated fuel:
The F.E.S. Range of Self Bunded Tanks - An Integrated Fuel Management Solution
F.E.S. TANKS self-bunded fuel storage tanks are a premium fuel storage solution supporting trucking, freight and logistic companies. Our industry experts have the knowledge to help you make the most of the fuel that keeps your business running, using the latest in storage and stabilising products and integrated fuel management solutions.
Our Bloc and Grande tanks come in sizes up to 110,000 litres and provide a flexible, relocatable and easy to maintain design and drop solution that's built to last in remote operations.
Our mobile and modular Bloc tanks ensure easy transportation to site with double-wall containment meaning there is minimal site work or preparation required. Our Grande tanks are built to international ISO container footprints for ease of transport and transfer with standard footprints of 3, 6, 12 and 14 metres using the container lock dimensions. This means they can be transported without the need for costly logistics.
All F.E.S. tanks are double skinned with lockable access hatches that make them easy to maintain and secure. We can also help with integrated fuel management systems that can monitor fuel usage remotely in real time, meaning a more efficient use of manpower and ensuring problems can be addressed early.
Self Bunded Storage Solutions for Trucking, Freight and Logistic Companies
Trucking, Freight and Logistics Solutions
A complete fuel management solution for trucking, freight and logistics companies
Our solutions for trucking, freight and logistics companies include:
Custom Design and Build Services
We offer a custom 'design and build' refuelling solution for trucking, freight and logistics companies. From storage, pumping and distribution to the latest monitoring and security technology.
Whatever your challenge on site, we guarantee to improve your fuel logistics over the long term. Better fuel logistics that deliver operational and financial savings for your business.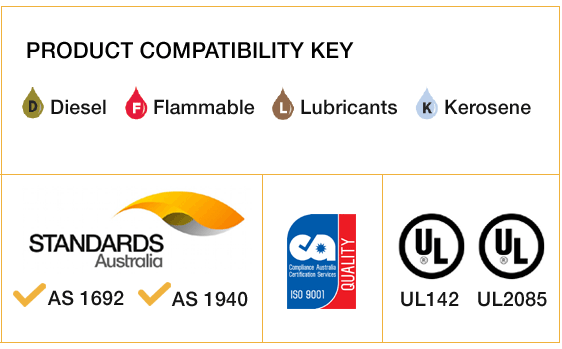 All F.E.S. tanks come with a standard 12-month warranty. They're also protected by a 7-year warranty on structural manufacturing defects and 12-month warranty on manufacturing paint defects.
Ask the fuel experts at F.E.S. TANKS about the right solution for your needs