Fuel Storage Solutions for Fleet Management Companies
Whether you're in the car rental business or keeping corporate vehicles on the road, the right fleet management solutions are vital to ensure your operation runs safely, reliably and economically.
Improving the fuel economy of your vehicles by less than 0.5km per litre could save you more than $100 per vehicle for vehicles travelling 33,000km a year at current prices, and more than $180 if your vehicles travel 55,000km – a significant saving.
Simply fixing an out of tune engine can improve vehicle mileage by an average 4 per cent, or up to 40 per cent for more serious problems.
Getting fleet management right starts with the right fuel storage systems.
Fuel Supply, Storage and Security
Top 3 Benefits to a F.E.S. TANK
Why Does Fuel Storage Matter?
Knowing the fuel that powers your car rental or commercial fleet is properly stored and as fresh as possible is essential to your efficiency and your bottom line – but it can be a difficult variable to control when cars are being refuelled at multiple locations.
When buying fuel off-site drivers might not always have access to the best quality fuel at the best price, and monitoring quality can be a near-impossible task.in
On-Site Storage: The Benefits
Storing your fuel on-site is one way to take control of fuel quality, as well as making it easy to monitor consumption and quickly pick up any maintenance issues with particular vehicles before they become major problems.
Ideally, you'll choose a storage option that allows you to turn your fuel supply over while it's fresh while still giving you the flexibility and capacity to buy when the price is right – making significant cost savings.
Using on-site fuel storage tanks means you can minimise problems caused by contamination from water and particulates or diesel bugs.
Fuel destabilised by any of these factors will spoil quickly, and can lead to other problems.
Operational issues caused by contaminated fuel:
Other benefits of on-site fuel storage – particularly for car rental fleets – include:
Tank Integrity – Keeping Fuel Contained
In the past, the worry of keeping fuel contained in line with State and Federal environmental legislation has put some fleet managers off the idea of on-site storage.
After all, leaks in tanks or faulty valves and fittings can not only cost you thousands in lost fuel, but could also mean hefty clean-up bills under environmental legislation.
Fortunately, those issues have been addressed with the growing availability of self-bunded fuel storage tanks which have a double wall for fuel containment, revolutionising refuelling options for business.
The integrated second tank wall not only eliminates the need for expensive and inflexible external bunding work but dramatically improves the probability of being able to recover your fuel in a useable condition in case of a spill.
As an added bonus, the tanks are fully transportable so they can be installed easily on site and transported between operational bases as your fleet movements and needs change.
The F.E.S. Range of Self Bunded Tanks - An Integrated Fuel Management Solution
F.E.S. TANKS self-bunded fuel storage tanks are a premium fuel storage solution supporting oil, gas and energy projects. Our industry experts have the knowledge to help you make the most of the fuel that keeps your business running, using the latest in storage and stabilising products and integrated fuel management solutions.
Our Bloc and Grande tanks come in sizes up to 110,000 litres and provide a flexible, relocatable and easy to maintain design and drop solution that's built to last in remote operations.
Our mobile and modular Bloc tanks ensure easy transportation to site with double-wall containment meaning there is minimal site work or preparation required. Our Grande tanks are built to international ISO container footprints for ease of transport and transfer with standard footprints of 3, 6, 12 and 14 metres using the container lock dimensions. This means they can be transported without the need for costly logistics.
All F.E.S. tanks are double skinned with lockable access hatches that make them easy to maintain and secure. We can also help with integrated fuel management systems that can monitor fuel usage remotely in real time, meaning a more efficient use of manpower and ensuring problems can be addressed early.
Self Bunded Storage Solutions for Fleet Management Companies
Fleet Management Solutions
A complete fuel management solution for fleet management companies
Our solutions for fleet management companies include:
Custom Design and Build Services
We offer a custom 'design and build' refuelling solution for trucking, freight and logistics companies. From storage, pumping and distribution to the latest monitoring and security technology.
Whatever your challenge on site, we guarantee to improve your fuel logistics over the long term. Better fuel logistics that deliver operational and financial savings for your business.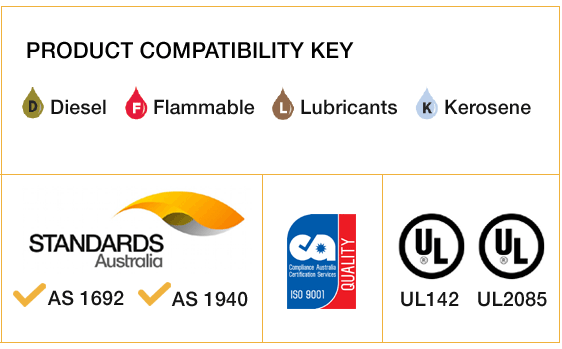 All F.E.S. tanks come with a standard 12-month warranty. They're also protected by a 7-year warranty on structural manufacturing defects and 12-month warranty on manufacturing paint defects.
Ask the fuel experts at F.E.S. TANKS about the right solution for your needs