Fuel Storage Solutions Government Infrastructure Projects
If you're fuelling government projects in remote communities, meeting your deadlines on time and on budget depends on a safe, clean and reliable fuel supply.
Our experience working with government to design fuel infrastructure for remote projects means we know where your pain points are, and we can deliver compliant and cost-effective solutions that are right for you.
Improving fuel logistics in any location starts with the right fuel storage systems.
Fuel Supply, Storage and Security
Top 3 Benefits to a F.E.S. TANK
Logistical Challenges in Remote Locations
Ensuring fuel supply where you need it, even in hard-to-reach places, can be a logistical nightmare for local government.
Even after considering the costs of transporting fuel – either by road freight or by sea – ensuring you can create an accessible supply that meets your changing project needs is a constant balancing act.  Investing in earthworks, bunding and site preparation for traditional storage depots means as project needs change, vehicles may need to travel some distance to refuel at significant cost to efficiency and your project's bottom line.
Some councils transport fuel tanks to new work locations on semi-trailers to get the job done, but it's an inefficient use of equipment that leaves part of the fleet out of action for the duration of the job – often several months.
There are human resources considerations  too – when you're covering large distances and have fuel stored at one or two sites, sending somebody out to read fuel levels and monitor usage can be a significant task.
Fuel Theft and Fuel Loss on Remote Government Projects
Whether you're a local council or supporting infrastructure for state or national government operations, losing fuel by theft from your tanks or your vehicles is a common problem  – especially in regional communities.
In remote locations it's not always possible to limit access to site, particularly when heavy machinery needs to stay on location. Fuel theft can not only cost your project thousands of dollars at a time, but can pose a serious risk to productivity – particularly when it means waiting days for a fresh supply or risking lower quality product.
Old style single skin tanks can be an easy target for fuel thieves, particularly if they are gravity-fed.
Fuel loss as a result of ageing and poorly maintained fuel storage infrastructure can not only cause serious environmental damage but can put a stop to your projects and potentially leave you footing hefty clean-up bills in addition to significant fines.
Fuel Quality and Fuel Contamination - The Risks
Sourcing quality fuel is always a challenge in remote locations, but it's critical to keep your machinery operating in top condition and prevent costly outages. When you're delivering government projects and services, reliability is not negotiable.
Diesel fuel contaminants can cause serious problems for your fleet and machinery, affecting engine components with issues like clogged intake valves, premature wear and tear on engine components, reduced air flow and reduced engine power and performance. That can impact service delivery and have far-reaching effects for your projects or your communities.
The best way to ensure a diesel engine's premium performance is to ensure a clean and reliable fuel supply.
Other operational issues caused by contaminated fuel:
The F.E.S. Range of Self Bunded Tanks - An Integrated Fuel Management Solution
F.E.S. TANKS self-bunded fuel storage tanks are a premium fuel storage solution supporting government projects. Our industry experts have the knowledge to help you make the most of the fuel that keeps your business running, using the latest in storage and stabilising products and integrated fuel management solutions.
Our Bloc and Grande tanks come in sizes up to 110,000 litres and provide a flexible, relocatable and easy to maintain design and drop solution that's built to last in remote operations.
Our mobile and modular Bloc tanks ensure easy transportation to site with double-wall containment meaning there is minimal site work or preparation required. Our Grande tanks are built to international ISO container footprints for ease of transport and transfer with standard footprints of 3, 6, 12 and 14 metres using the container lock dimensions. This means they can be transported without the need for costly logistics.
All F.E.S. tanks are double skinned with lockable access hatches that make them easy to maintain and secure. We can also help with integrated fuel management systems that can monitor fuel usage remotely in real time, meaning a more efficient use of manpower and ensuring problems can be addressed early.
Self Bunded Storage Solutions for Local, State and National Government
Local, State and National Government Solutions
A complete fuel management solution for any size government project
Our solutions for fuel-related government projects include:
Custom Design and Build Services
We offer a custom 'design and build' refuelling solution for trucking, freight and logistics companies. From storage, pumping and distribution to the latest monitoring and security technology.
Whatever your challenge on site, we guarantee to improve your fuel logistics over the long term. Better fuel logistics that deliver operational and financial savings for your business.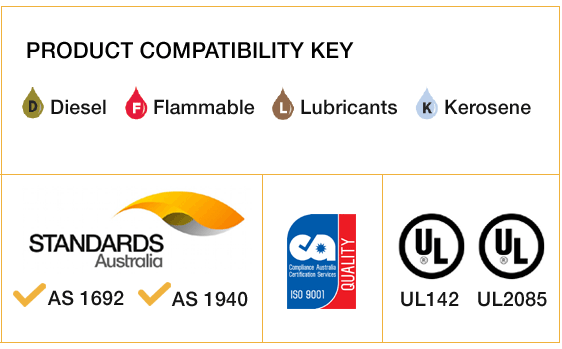 All F.E.S. tanks come with a standard 12-month warranty. They're also protected by a 7-year warranty on structural manufacturing defects and 12-month warranty on manufacturing paint defects.
Ask the fuel experts at F.E.S. TANKS about the right solution for your needs