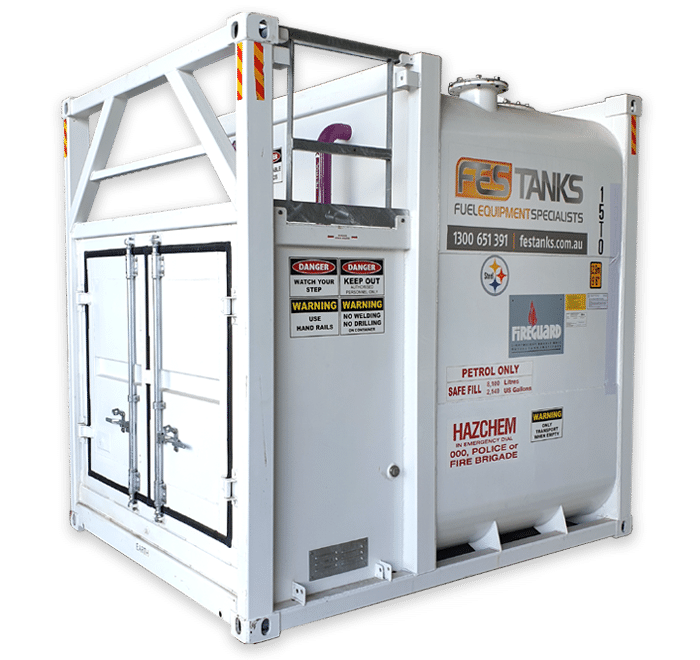 Compatible with diesel fuel, flammable liquids, lubricants and kerosene.
When it comes to storing fuel and flammable liquids safely and in compliance with the Australian Standard and State and Territory regulations, our fire rated tanks tick all the boxes.
Getting the right advice about your fire rated fuel tanks from the start can save you money, reduce risk and give you peace of mind.
Fire rated fuel tanks that meet Australian and international standards
In Australia, the storage and handling of flammable and combustible liquids (AS 1940:2017) defines minimum separation distances between fuel storage areas with buildings or public areas.
The standard specifies requirements for the design, construction and operation of installations where flammable or combustible liquids are stored and handled. If you're storing flammable liquids you must ensure that the location, method of construction and means of ventilation of the storage facility complies with this standard, and that you are using appropriate storage tanks.
Thermal insulated fire rated tanks are designed to strict safety standards that keep the contents safe in the case of a building fire or liquid fire from spilled fuel. For example a 2 hour fire rating means if the tank is engulfed in a fire the contents will be protected for at least two hours.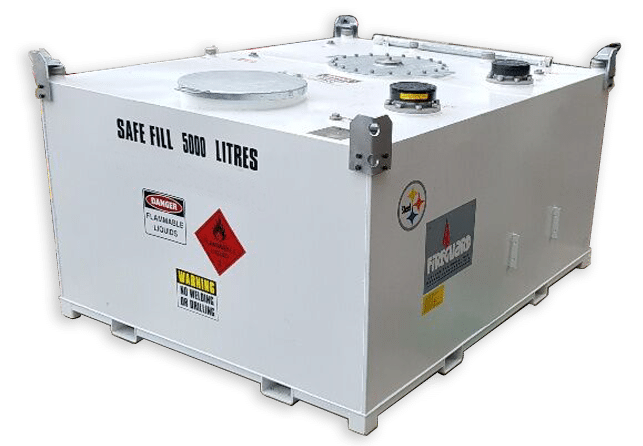 Our range of fire rated tanks are designed to meet Australian and international standards and ensure your business meets all safety requirements.

Our lightweight, fully insulated double walled tank systems not only reduce transportation, installation and relocation costs but exceed the international safety standards for the UL 2-hour fire test. They are compatible with diesel fuel, flammable liquids, lubricants and kerosene and designed to comply with AS1692, AS1940, UL142 and UL2085.

Our Shield Fireguard tanks are also available with ballistics and impact protection.
Protection for your fuel and the environment
Because fire-rated fuel tanks are built with lightweight thermal insulation material on all sides, they keep product safe from ambient temperature variations, extending the life of the product and reducing emissions to the environment.
They are compatible with a wide range of products including biodiesel and ethanol.
SHIELD FIREGUARD fire rated storage tanks – your number one option
From 1,000 to 58,000 litres, if you need fuel or chemical storage on site quickly with added fire protection as standard, SHIELD FIREGUARD is your number one option.
SHIELD FIREGUARD tanks are a 4-hour fire rated mobile fuel tank solution for storing a wide range of fuels and chemicals in confined spaces.
Fire rated tanks that are easy to ship, install and relocate
Our range of Shield Fireguard thermal insulated fire rated tanks are designed for easy transport, storage and installation.
Their lightweight construction makes for trouble-free transport, reducing shipping costs.
The dual wall design reduces the required separation distance between fuel storage areas, making them an ideal solution when space is at a premium.
Finally, because there's no need to build a bund or external containment system, you'll also reduce installation costs and have the flexibility to move your tanks as your business needs change.
Fire rated tanks backed by a quality guarantee
Our tanks can be designed to suit your business needs and come backed by a 12-month general warranty and a seven-year structural warranty to give you peace of mind.
If it's time to replace your tanks, F.E.S. TANKS has a complete range of fuel storage systems for sale or hire to suit all your fuel storage needs.
Contact our industry experts to find out the best fuel storage options for your business.
SHIELD FIREGUARD TANK SPECIFICATIONS
Dimensions are nominal only. Alternative capacities available upon request.
The storage of flammable liquids can be accommodated with the relevant venting and accessory change. Remember to check with local authorities.
*Fire Rated (Stainless Steel) Aviation/Jet Fuel tanks available upon request*
Tailored your fuel storage system
We'll tailor your fuel storage system to your needs and local legislative requirements, including appropriate venting and accessories for the storing of flammable liquids. Fire rated stainless steel aviation fuel tanks are also available on request. You can rely on the F.E.S. team for up-to-date knowledge about safe storage of fuel and flammable liquids and current legislation around fire rated storage tanks.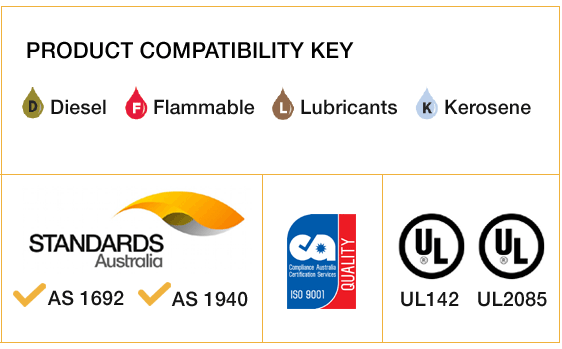 Ask the experts at F.E.S. today about the right solution for your needs