Army, Navy, Air Force - Military operations driven by fuel logistics
From AFVs to transport trucks, construction equipment, trains, ships and aircraft, a reliable fuel supply is critical to military operations – particularly when working in remote locations.
F.E.S. self-bunded tanks and refuelling solutions provide a flexible and fully transportable fuel supply for military operations, be it in peacetime or mobilised for action.
The effectiveness of a military force relies on its ability to deliver a strategic response when needed. A strategic response backed up by the mobilisation of men and equipment.
Ensuring the reliable mobilisation of equipment starts with the right fuel storage systems.
Fuel Supply, Storage and Security
Top 3 Benefits to a F.E.S. TANK
Military Fuel Storage and Logistics - Specialised Requirements
Getting military fuel storage right is a complex business. The Australian Defence Force uses eight or more different types of fuel, including specialised military specification fuels. While some overseas forces are standardising fuels across forces to improve military logistics, there are pros and cons to this approach. Military specification fuels include additives that the ADF considers essential for the operation of its ships, aircraft and vehicles, in a range of demanding environments.
Using the right fuel and storing it correctly is important for military operations because they occur across a wide range of climates. Fuel often needs to be stored longer-term, and there are specific safety requirements around fuel storage in combat situations.
Each branch of the Defence Forces has its own specialised fuel requirements. In 2002 the vehicle fleet supported by the Army fuel supply chain alone consisted of 618 commercial ('white fleet') vehicles, 4695 specifically designed vehicles for off road activities ('green fleet'), and 3909 other pieces of equipment requiring fuel, such as generators, plant equipment and forklifts.
All this means the ADF spends hundreds of millions of dollars each year on fuel and lubricants -in 2000–2001 the figures was $223.2 million- with more than 750 types of fuel and lubricant in use. It's a significant investment and one that deserves protecting.
When you're refuelling ships, aircraft and ground-based military fleets, supply chain security is a priority.

With much of the fuel used by our Defence Forces transported by road, ensuring it reaches its destination on time and in good condition is vital.Transporting fuel for long distances along difficult roads can place your supply and your operation at risk and represent a significant vulnerability.
It's also critical to ensure that fuel stored longer term in remote locations remains fresh so it does the job when needed – Ensuring a secure and ready fuel supply is essential for rapid activation.
Mobilising fuel storage is nothing new in military logistics. Having safe, transportable bulk fuel storage options that can be activated quickly and relocated as operational needs change is a must.
Common Problems Caused By Poor Fuel Quality
When you're storing fuel at remote locations, in harsh conditions or in ageing infrastructure, fuel quality can be an issue.
Particulate contamination, water and diesel bugs are all common issues that affect fuel quality and can cause critical issues.
Diesel bugs grow best in the interface between water and fuel and can spread rapidly, spreading particulates in the fuel and generating corrosive by-products that will cause severe damage to tanks and engines. Diesel destabilised by any of these factors will spoil quickly causing problems including poor starting or failure to start, reduced fuel efficiency and increased consumption.
Other common problems caused by poor fuel quality
Tank Integrity - Transportable Fuel Storage Solutions for Military Fuel
Our industry experts have the knowledge to help make the most of the fuel that keeps military operations running using the latest in storage and stabilising products and integrated fuel management systems.
Our self-bunded, fully transportable fuel storage tanks including our Bloc and Grande ranges are a tough, flexible solution to the problem of ensuring a reliable and safe fuel supply. Having an integral secondary tank wall does away with the need to build an expensive bund wall system and means when operational needs change quickly, fuel supplies can be readily relocated.
The F.E.S. range of self-bunded Bloc tanks provides a safe, convenient way to store and dispense smaller quantities of diesel and petrol fuels or lubricants. These small cube tanks – from 1000 litres – are ideal for sitting next to a generator and can be paired with the latest fuel distribution systems.
Our Grande tanks come in sizes up to 110,000 litres and are designed to meet Australian and international safety standards, and to be easily installed and drop-shipped into place. Their dual wall construction protects the environment against leaks, protects against fuel loss and degradation and saves on excavation and construction work. Unique features include anti-corrosion coatings and fittings, outlets sited on the side for easy refuelling and dual manways for trouble-free inspection and cleaning.
Whether transporting by land, sea or air, the F.E.S. TANKS range of self-bunded fuel storage tanks can be a great way of providing immediate access to fuel in remote areas and combat zones. Set up of our self-bunded tanks is as easy as dropping them on-site. These systems have minimal on-site footprint and require no major external construction for safety compliance, meaning installation can happen in days.
Our HULK (Hydraulic Un-Loading Kit) fuel storage system is custom-built for remote locations.
The system is a complete relocatable bulk fuel storage solution with hydraulic legs, allowing the truck to drive away while the tank lowers itself into position and creating a storage option for difficult and remote sites.
Quality Control – Measuring Fuel Quality and Consumption in Military Vehicles
The F.E.S. TANKS range of Bloc and Grande tanks makes taking control of fuel quality easy with an extra thick protective coating to protect against rust and corrosion and easy access through dual-manways for inspection and cleaning.
Our tanks are built to last and are used in some of the world's most demanding environments, from the monsoonal tropics of Australia to the Sub-Saharan African Continent.
Our fuel transfer and management systems will also help you keep track of fuel usage remotely and minimise fuel loss. Our full range of dispensing equipment can give your fuel tank all the capabilities of a refuelling station, while our fuel management systems mean you can monitor and measure metrics like fuel consumption remotely to help with accounting and budgeting. We can also provide security solutions such as user-account access that make fuel theft virtually impossible.
Self Bunded Storage Solutions for Military Applications
A complete fuel management solution for military on the move
Our solutions for the armed forces include:
Custom Design and Build Services
We offer a custom 'design and build' refuelling solution for trucking, freight and logistics companies. From storage, pumping and distribution to the latest monitoring and security technology.
Whatever your challenge on site, we guarantee to improve your fuel logistics over the long term. Better fuel logistics that deliver operational and financial savings for your business.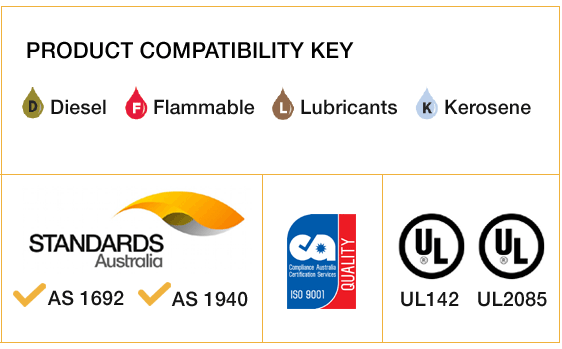 All F.E.S. tanks come with a standard 12-month warranty. They're also protected by a 7-year warranty on structural manufacturing defects and 12-month warranty on manufacturing paint defects.
Ask the fuel experts at F.E.S. TANKS about the right solution for your needs