New self bunded tank distributor appointed in Darwin, Northern Territory
F.E.S. TANKS, Australia's market leader in self-bunded fuel storage tanks, has expanded its reach in the Northern Territory through a new distribution agreement with respected operator Jetstream Electrical.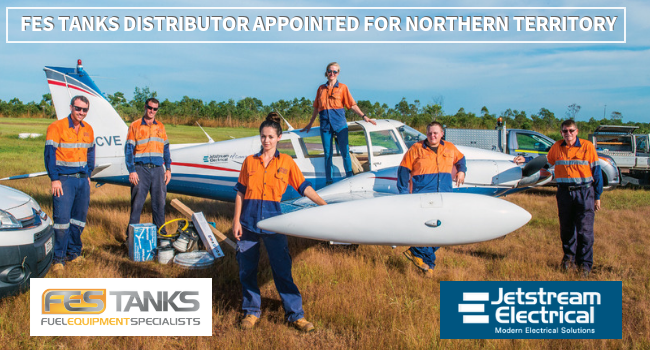 F.E.S. TANKS is an Australian-owned, trusted supplier of professional-grade self-bunded fuel storage tanks and mobile refuelling solutions to the commercial, industrial, mining, agricultural, aviation and fuel retailing industries.
Jetstream Electrical Director Kevin Pettitt said his team had been using F.E.S. TANKS for many years, particularly for remote refuelling solutions.
"F.E.S. TANKS are based in North Queensland and their products are well suited for remote installations," he said.

"They are superior to other products in terms of their volume and range and the way they are constructed – they're a really robust tank and value for money.

"We have installed many F.E.S. TANKS already over the years, and the feedback has been overwhelmingly positive.

"We're pleased to now be distributors for this industry-leading product."
F.E.S. TANKS Director Daryl Cygler said building on the longstanding relationship between F.E.S. TANKS and Jetstream Electrical was good news for Northern Territory businesses.
"The team at Jetstream are experts at designing and installing fuel systems, particularly in remote locations," he said.

"They know and trust our tanks because they are built to last, with practical features that make them easy to use, transport and maintain – ideal for responding to the challenges of temporary and remote power requirements in the Northern Territory and across regional Australia.

"We look forward to working with Jetstream Electrical to give Northern Territory customers access to a top quality, Australian-designed fuel storage solution, backed by local technical know-how."
About F.E.S. TANKS

F.E.S. TANKS has become the market leader in self-bunded storage tanks in Australia.
Established in 2013, their reputation for offering environmentally-friendly fuel storage tanks with unique fuel dispensing and management solutions has led to fast national growth and expansion.
F.E.S. TANKS works with industries on the move to provide innovative, next-generation fuel storage solutions designed to take business into the future.
For more information go to www.festanks.com.au
About Jetstream Electrical
Jetstream Electrical is a Darwin-based business servicing all areas of the electrical and petroleum services fields.
Their team of A-grade licensed tradesmen are specialists in remote electrical services and have the skills, knowledge and adaptive ability to meet the changing needs of Northern Territory businesses.
Find out more at www.jetstreamelectrical.com