Self Bunded Tanks in Nigeria. The new frontier for fuel storage.
Nigeria is Africa's largest fuel producer, with oil and natural gas exports totalling almost 2000 barrels a day in December 2018. Fuel exports accounted for more than 85% of the total value of the country's exports and in April this year, the government revived plans to double oil production by 2025 to as much as 4 million BPD.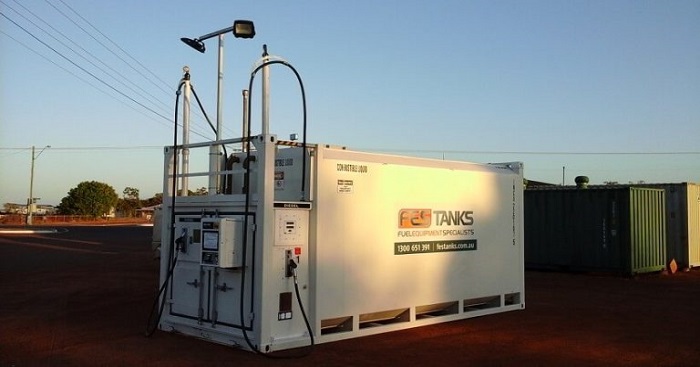 At the same time, crude oil and downstream petroleum theft remain critical issues, particularly as global oil prices rise. Shell Nigeria reports that facilities operated by both local and international oil and gas companies continue to be affected by attacks and other illegal activities, leading to significant production disruptions and environmental contamination.
Third-party interference caused close to 90 per cent of the total number of spills of more than 100kg from the Shell Petroleum Company of Nigeria Limited operated joint venture pipelines in 2018.
Fuel storage in Nigeria – key issues
Keeping stored fuel safe and in good condition is a priority for Nigerian operators, with a number of storage and distribution options and security checks in place to minimise fuel loss.
Underground fuel storage tanks
Underground fuel tanks do offer security and can reduce fuel loss through evaporation. On the downside tanks and fuel distribution systems are often in poor condition, with inspection and maintenance difficulty and the cost of replacement significantly higher than above-ground storage options. Poorly maintained tanks add to the risk of fuel contamination and spoilage as well as to the risk of environmental leaks.
Fuel tank farms
For fuel storage on a grand scale fuel tank farms are the most common solution in Nigeria. Mega tank farms like the Ibefun farm in Ogun State are capable of storing up to 300 million litres of petroleum product. Security remains a key issue for these operations, with theft through distribution systems and spills through poorly maintained storage tanks among key issues.
Fuel management issues
Oilprice.com reports there have been numerous allegations of oil and petrol theft from Nigeria's onshore export terminals, tank farms and refinery storage tanks. With oil companies basing their total production figures on unconfirmed volume estimates, using dipsticks to make calculations, there is also concern that the true magnitude of the problem might be underestimated.
Fuel storage for Nigerian business – the challenges of a reliable supply
For business operators, ensuring a reliable fuel supply for operational continuity is a critical issue. Petroleum products account for more than 83 per cent of the commercial primary energy consumed across Nigeria, with transport businesses among the major users.
With the nation exporting more than 85 per cent of its fuel oil and the country's refineries poorly maintained and sometimes shutting down for months, fuel supply for domestic consumption is often disrupted and this can mean bad news for operators who need to power vehicles and machinery.
Transportation issues are also a significant factor behind an unreliable fuel supply. Tanker trucks are the primary method of fuel transportation and due to rough and poorly maintained roads problems like accidents, delays and product diversion often lead to product losses and low supply in regional areas.
Extreme Industrials (Nigeria). A secure fuel storage and distribution solution
Australian-made F.E.S. fuel storage tanks provide a secure and cost-effective solution to help Nigerian businesses take control of their fuel supply.

Stockists Extreme Industrials in Lagos say the tanks present a flexible solution that keeps fuel safe and helps keep businesses running without the need for expensive site preparation works.
The F.E.S. self-bunded tanks range comes in sizes ranging from 1000 litres to 110,000 litres built to international standards. The dual wall construction protects the environment against leaks, protects against fuel loss and degradation and saves on excavation and construction work.
"Another great benefit is that they are fully modular systems which makes site design simple. Everything, including connecting pipework, walkways and ladders can now be prefabricated and put together on-site," says Extreme Industrials General Manager Ados Momoh.

"The tanks are also compatible with advanced fuel management systems that can keep track of fuel usage in real time – these systems can significantly streamline the refuelling process and dramatically reduce losses."
To find out more about F.E.S. TANKS in Nigeria contact the experts at Extreme Industrials, www.extremeindustrials.com.
---
OTL Africa Downstream Week 
Extreme Industrials will be exhibiting at OTL Africa Downstream Week (in space C5) from 27-30th October 2019 at the Lagos Oriental Hotel. Feel free to drop in and talk to the Extreme Industrials team should you have any questions about your current fuel storage and management issues.
This event is globally acknowledged as the biggest platform for downstream oil & gas businesses in Africa.

To learn more about OTL Africa Downstream Week, click here.