New self bunded tank distributor appointed in Melbourne, Victoria
F.E.S. TANKS, Australia's market leader in self-bunded fuel storage tanks, has expanded its reach into Victoria through a new partnership with Austank.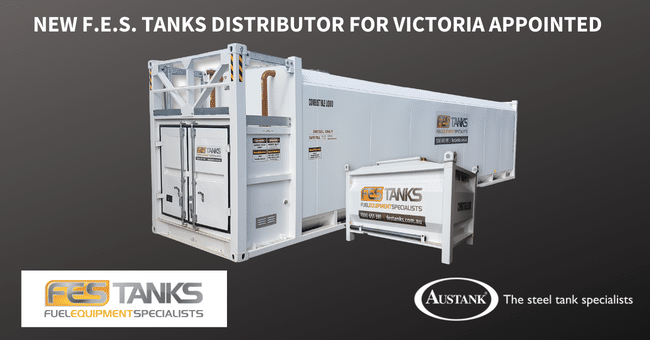 F.E.S. TANKS is an Australian-owned, trusted supplier of professional-grade self-bunded fuel storage tanks and mobile refuelling solutions to the transport, agricultural, commercial, industrial, mining, aviation and fuel retailing sectors.
Austank project manager Krystal Lewis said the F.E.S. range of Bloc and Grande tanks provided a handy solution for Victorian businesses looking for an affordable quality fuel storage option that could be installed quickly and easily.
"A lot of work sites need tanks urgently as their needs change, and this is where F.E.S. tanks provide a great flexible solution," Krystal said.
"With road transport more important than ever at the moment, some of our transport clients have found the F.E.S. range gives them exactly what they need – additional fuel storage and distribution capacity that can be installed and operational in days with minimal site preparation.
"F.E.S. TANKS are a really robust tank built to last, with practical features that make them easy to use, transport and maintain – they're a great complement to the Austank range."
F.E.S. TANKS Director Daryl Cygler said the partnership with Austank was good news for Victorian business.
"We're pleased to partner with the Austank team to bring F.E.S. solutions to Victoria" he said.
"They're a great team with the knowledge and skills to design fuel storage and distribution systems that meet the particular needs of their clients, from farmers to transport operators."
About F.E.S. TANKS
F.E.S. TANKS has become the market leader in self-bunded storage tanks in Australia.
Established in 2013, their reputation for offering environmentally-friendly fuel storage tanks with unique fuel dispensing and management solutions has led to fast national growth and expansion.
F.E.S. TANKS works with industries on the move to provide innovative, next-generation fuel storage solutions designed to take business into the future.
For more information go to www.festanks.com.au
About Austank
Austank has been operating in Victoria and NSW since 1985, when it started as a company building domestic heating oil and lube oil tank.
Today the company specialises in the design, engineering, fabrication and installation of quality Australian made steel storage and process tanks for the petroleum, energy, chemical and power generation industries.
Find out more at www.austank.com.au