Top five reasons to buy a self-bunded fuel storage tank
You're looking at fuel storage options for your farm, home or business, but it's difficult to make a decision. There are a number of variables to consider – capacity, location, maintenance requirements, accessibility and environmental requirements, to name a few.
Self-bunded tanks, which are double-walled or skinned, are an increasingly popular option for a number of reasons.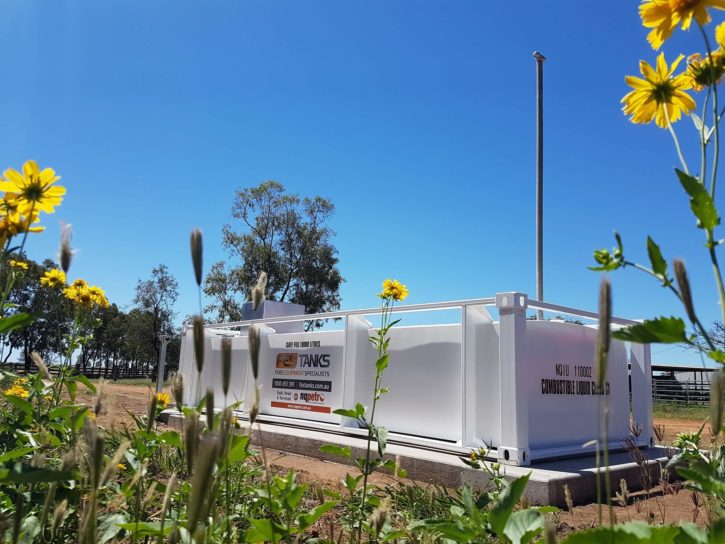 Top 5 benefits of a self bunded tank:
Cost savings: When you buy a self-bunded tank, the savings start with the set-up. Because they incorporate a built-in containment system for ruptures and leaks, self-bunded tanks eliminate the need for specialist civil engineering or building works involved with building an external bund. Typically, buying a self-bunded tank works out at about half the cost of using a single walled tank and building a bund.
Compliance: Buying a self-bunded tank that is certified to Australian Standards is the best way to ensure your fuel storage complies with environmental legislation in your area. A properly maintained bunded tank and refuelling system – including valves, pipes, pumps and hoses – is also the best protection you have against fuel leaks that can cause soil or water contamination and six-figure fines.
Flexibility: A self-bunded tank is a drop-and-go option, so not only can you use your fuel storage immediately, you can safely and easily transport your tank to another site. Smaller portable self-bunded tanks are available in sizes up to 10,000 litres, meaning when your worksite moves with seasonal changes or project demands, your fuel storage can move with it. Our fully transportable Grande tanks store up to 68,000 litres of fuel, for operators with high fuel turnover and storage requirements. Again, there are cost and efficiency benefits because refuelling can take place on or near your worksite, wherever the site is. To make this option even more flexible, F.E.S. TANKS can even provide solutions for hard-to-access areas, like our HULK self-loading system that makes it easy to position and relocate high volume tanks without a crane lift.
Keeping your fuel in great shape: Because self-bunded tanks are easy to maintain and to access for maintenance, it's easy to keep your tank in great shape – and keeping your tank healthy means your fuel with stay fresh for longer. That in turn means your vehicles will run more efficiently, and your business will benefit.
Security: Self-bunded tanks also offer a high level of built-in security, with a lockable hatch across all access points that can be secured with a heavy padlock when the tank is not in use.
The F.E.S. range of self-bunded tanks comes in sizes from 1000-110,000 litres and offer unbeatable quality and the added advantage of a safe fuel limit which is 10 per cent greater than standard tanks of similar capacity – meaning your tank can go longer between refills.
Call our experts on 1300-651-391 to find out more about our range or discuss your needs and let us build the tank that's right for you.