Australia's Economic Future Under Threat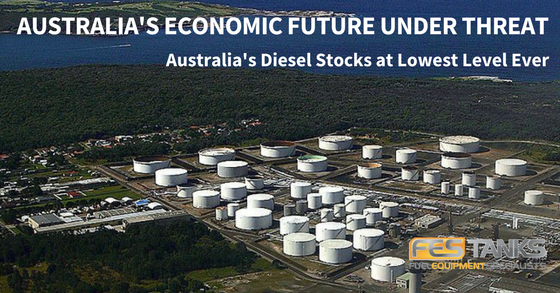 Australia's Diesel Stocks at Lowest Level Ever. This is not sensationalism, this is fact.
Regular readers of our blog will know that we have been warning for some years of the potential for a major shortage in petroleum refined products storage unless some action is being taken to create a Strategic Fuel Energy Reserve in Australia. Something that we highlighted some time ago with our interactive infographic.
"In the month of November 2016 – the latest government figures became available. Diesel consumption cover for the whole of Australia fell to (13) days, the lowest in thirteen years and beyond. Having stocks run down to that level is a huge threat to our economy." Kevin Hughes – HEH Australian Petroleum Consultancy Co
When stocks are at that level, even a simple refinery breakdown, shipping delay, industrial unrest, act of terrorism in Asia or elsewhere, would be catastrophic for our economy.
Victoria and South Australia regularly ran out of diesel in the latter months of 2016 and have been suffering such run-outs for years.
How long will this be allowed to go on?
Australia is the only country within the IEA & APEC group not to have a Strategic Fuel Energy Reserve.
The International Energy Agency (IEA) condition of its membership is still a long way out of Australia's reach at (90) days cover for all products.
WHY HASN'T THE GOVERNMENT MOVED ON THIS SERIOUS THREAT?
One can only speculate that the powerful oil industry lobby, which will be advising that everything is ok and nothing needs to be done, is too heavily influencing the government. The reason for such advice is centred around the major oil companies' self- interest. They do not wish to have to fund or be involved in the management of, as in all other IEA & APEC countries, a Strategic Petroleum Energy Reserve.
Major oil and other importers of petroleum will always, perhaps understandably, unless directed otherwise by government, limit storage within their terminals to meet their own immediate market needs. Even New Zealand has a Strategic Reserve – located in Japan, while Japan itself has regulated that major oil must store at its cost, 40% above its routine requirements as a Strategic Reserve.
We are not necessarily advocating the Japanese model is the most cost effective for Australia, there are several models that can be evaluated, such as:
The Government Build additional storage in strategic locations where storage is weakest
Adopt the Japanese model and have the oil companies store a defined percentage above their market requirement – perhaps subsidised by the Government.
Build additional storage in strategic locations in collaboration with major oil on their land.
Appoint a Petroleum Industry Ombudsman, which among other responsibilities, could manage the process, the cost of which could be borne collectively by the oil industry.
Whatever happens, this major threat to our economy and to our way of life, cannot be allowed to continue. The community will not forgive any government that does not take appropriate action to protect its people, and neither it should, particularly with a problem that has been looming and well known for years. Each one of us too, should take responsibility and draw this community threat to our Members of Parliament and whoever else will listen.
To provide continual focus on what we see as an increasing threat to our Australian economy we will each month provide the latest data on 'days consumption cover' trends. Our view, for the protection of the Australian economy, the target days cover should be a minimum of (30) days for diesel and petrol, whereas the International Energy Agency (IEA), as a condition of membership requires (90) days cover for all petroleum stocks (including crude oil) and we are not currently meeting even that benchmark.
As will be seen from the latest numbers our fuel security remains at a precarious level.
| | Mogas | Distillate |
| --- | --- | --- |
| September 2016 | 24 days | 18 days |
| November 2016 | 23 days | 13 days |
| Variance to last yr. | + 16.9% | – 6.1% |
We are still waiting with interest for the now long overdue Federal Government report on the issues raised from its April 2015 Senate Inquiry – which former Government Minister Macfarlane promised would be provided before 2015 year end.
We once again suggest that if the government appointed a Petroleum Industry Ombudsman as we have been variously recommending, the task of managing Australia's fuel energy security could be one of that office's stable of duties, its function paid for by the oil industry.
Article reproduced from HEH Australian Petroleum Consultancy Co the monthly update. So powerful was the message we felt it essential to syndicate and distribute in the effort to raise more awareness of the issue.