Oils ain't oils, and not all waste oil storage tanks are the same.
Whether you're a service station, a lube shop or a mine site operating heavy diesel machinery, if your business generates used oil you need waste oil storage.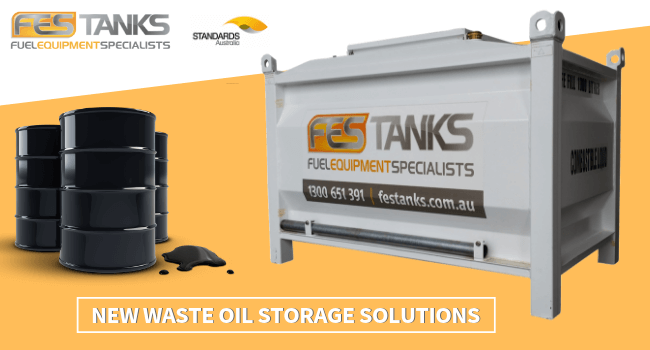 If you're operating a mine site, a single oil change on a haul truck could generate 250 litres of used or waste oil that needs to be stored in a way that makes sense for your business and complies with environmental and safety legislation.
Whether your business is big or small, you've probably already thought about investing in quality oil storage to prevent degradation, protect your product and keep your machinery ticking over. What many businesses often miss is that getting used and waste oil storage right is just as important, and can make a huge difference to your bottom line – particularly with the Federal Government offering incentives to recycle waste oil.
Given our increasingly tight environmental regulations to prevent water and soil contamination, and the growing trend towards waste oil recycling, it's worth thinking about the most efficient and effective storage system for your operation.
What contaminates oil?
Modern engines may be efficient, but the heat they generate still changes motor oil, causing a breakdown of additives and other key properties. This creates acids that combine with other contaminants including dirt, dust and rust, along with small amounts of water. Add to this exhaust gases that leak past the piston rings and you have contaminated oil that could contain cadmium, aluminium, lead, steel, iron and chromium as well as arsenic and benzopyrene.
It's a list of chemicals you wouldn't want in your drinking water, which is why waste oil storage is heavily regulated.  It only takes one litre of waste oil to make one million litres of fresh water undrinkable, so preventing spills has to be a first priority.
Waste oil storage –the basics
In Australia, the standard for waste oil storage is set in AS1940,with each state and territory creating itsown legislation based on the national standard.
Essentially, the legislation forbids the disposal of waste oil into the soil or into stormwater and outlines the requirements for the prevention of any spills by ensuring oil is stored in a bunded and covered area and in appropriate containers.
Depending on state legislation, you may also need a licence if you're storing large quantities of waste oil, and in some cases there will be a levy on liquid waste. The transport of waste oil may be subject to hazardous waste tracking.
Across the board, the basics around waste oil storage are:
Don't mix waste oil with other substances
Label waste oil containers correctly
Never store waste oil in a rusted or damagedcontainer or tank
Know your state or territory legislation aroundwaste oil storage
The NSW EPA says importantly, you should minimise the numberof liquid waste containers you're storing and use spill containment systemsthat minimise the likelihood of drums tipping over and causing a spill outsidethe designated containment area.
Storing waste oil in drums
Drums are a traditional form of oil storage, but there a fewpitfalls to be aware of when using drums.
Apart from being a less space-efficient storage method,summer temperatures can make leaks more likely, particularly if the drums areexposed to weather. As it rains, water can be trapped on top of the barrels andsubmerge the bungs. As the drum heats and cools, air is exchanged between theair space above the waste oil and the atmosphere. This can result in water thatis sitting on top of the bungs being pulled into the oil, ultimately settlingat the bottom of the barrel and raising the overall fluid level. As the processcontinues and more water is accumulated, the barrel can become deformed andpush oil out of the bungs, causing a potentially harmful and expensive spill.
A new trend in waste oil storage tanks
Given those requirements, FES Managing Director Craig Cygler says it's no surprise self-bunded bloc storage tanks are an increasingly popular alternative to traditional drum storage options.
Designed toAS1940 and AS1692 (tanks for flammable and combustibleliquids), an FES bloc tankticks all the regulatory boxes in one step, reducing the need for multiplebarrels and for a designated bunded storage area.
"We've got more and more business customers looking to our 1000-2500 litre Bloc tanks as waste oil storage tanks,"Craig said.
"Unique to FES, our Bloc tanks are designed for safety, efficiency and long life and comply with all Australian regulations.
"Our Bloc tanks are built to the highest quality standards with a heavy-duty 300 micron paint finish and stainless steel fittings that won't react with the chemicals that can be found in waste oil.  With an in-built bund capable of taking 110 per cent of the tank's capacity, they can be placed wherever they are needed on site without the need for building work, concrete walls or excavations and are also easy to store, relocate and transport.
 "The 6mm steel double-walled construction and the design of this range makes them easy to service and means waste oil can be stored outside while minimising the risk of corrosion, water contamination, and leaks. Because of their capacity self-bunded Bloc tanks also eliminate the spills and safety risks that come with using multiple barrels."
The cube styling of the FES Bloc tanks range also gives maximum volume with a small space-saving footprint.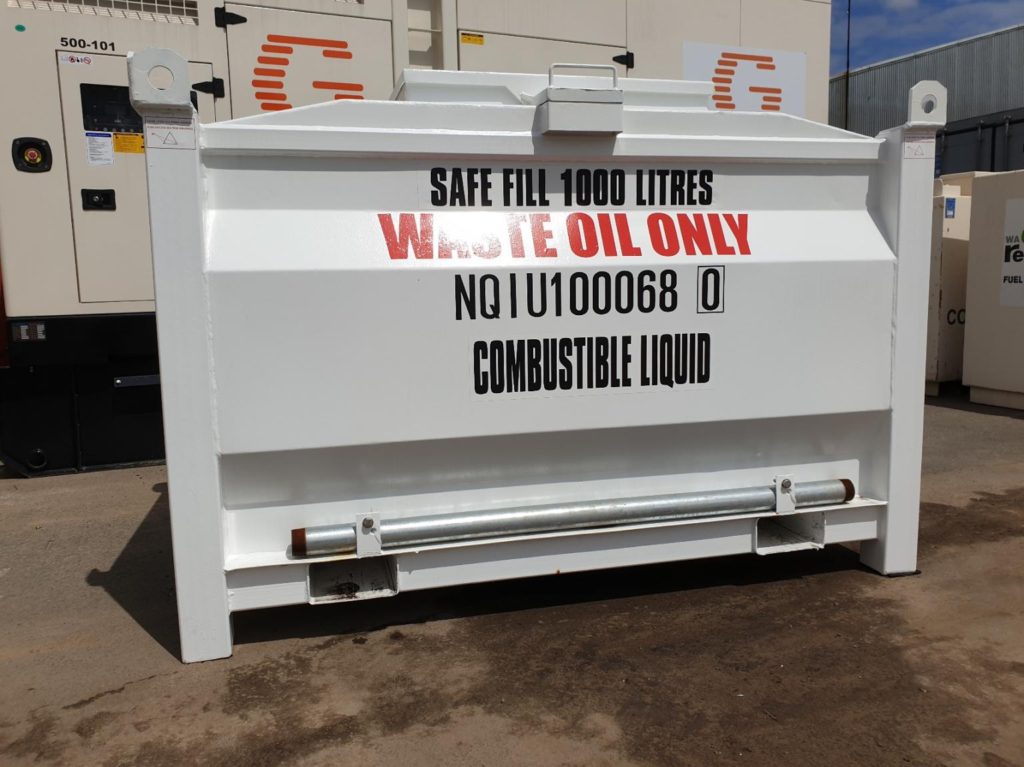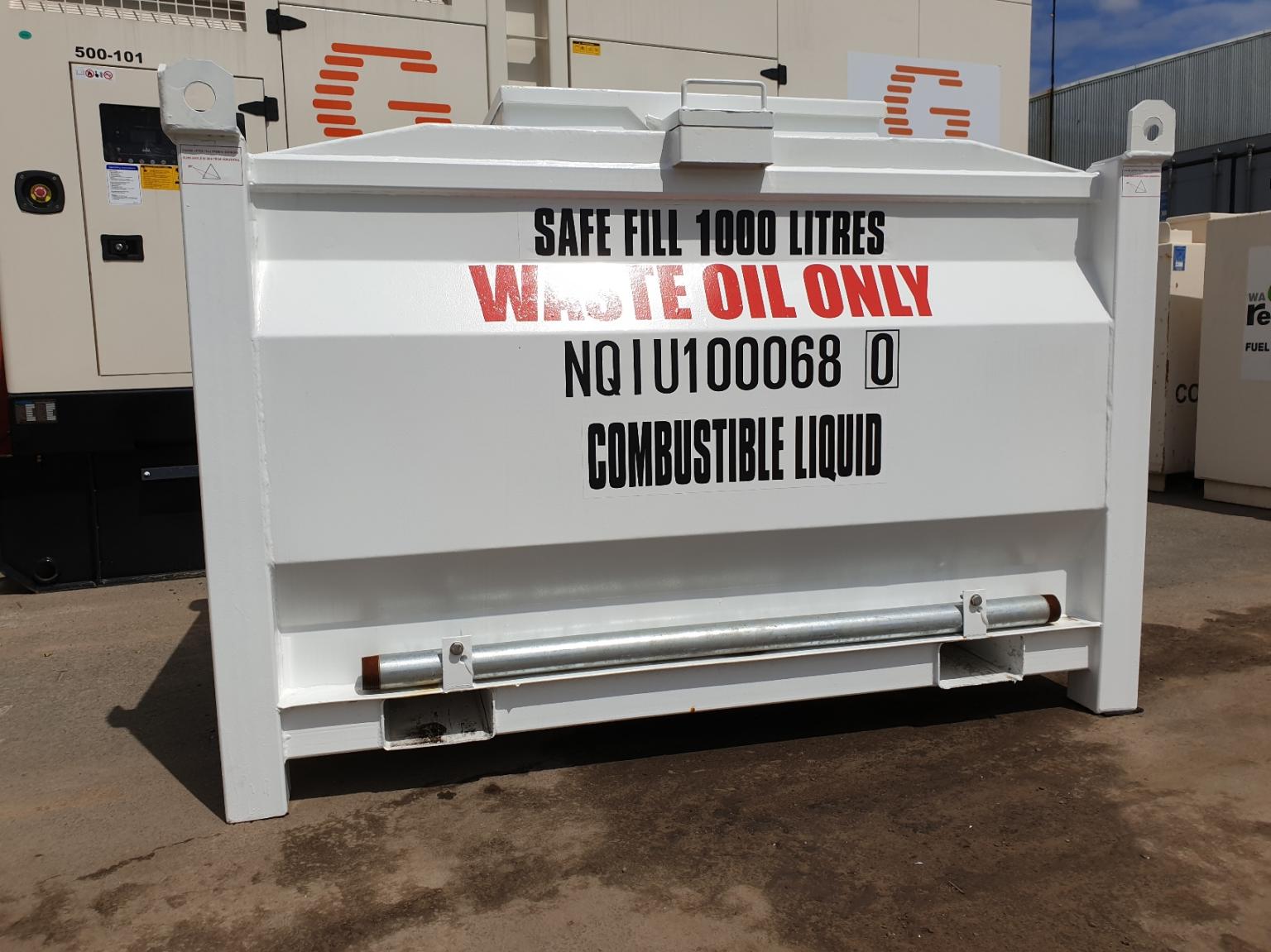 Ask the FES experts for the right solution to your waste oil storage requirements on 1300 651 391, or email us your requirements.