Genset Hire and Sales Australia (GHASA) appointed new F.E.S. TANKS distributor
Updated Press Release: Cairns, Queensland, Australia.
Mar 02, 2018, 14:04 ET
The founders of F.E.S. TANKS, Australia's market leader in self-bunded tanks, are pleased to expand their reach into Perth and across Western Australia through a new distribution agreement with Genset Hire and Sales Australia (GHASA).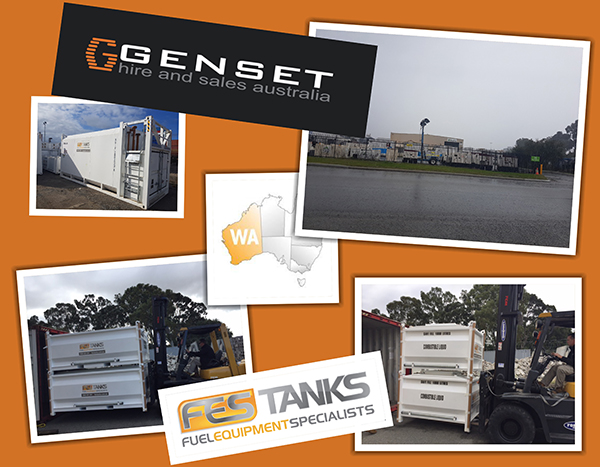 The GHASA team, with more than 40 years technical and industry experience in temporary and remote power solutions, are the ideal partners to supply and install the F.E.S. range of high-quality, easily transportable fuel tanks and storage solutions across WA, backed up by on-the-ground local expertise.
Daniel Porter, F.E.S. TANKS' Business Development Manager said GHASA's customer focus, technical ability and problem-solving approach made them the right fit for F.E.S.
"Having GHASA as our new WA distributor ensures we have local bunded tank experts available to service customers in Perth and the surrounding western regions," Daniel Porter said.
"It also ensures greater stock availability in conjunction with a faster service solution – a win for customers in WA."
GHASA spokesman Chris Nancarrow,  said the strong regional experience and credentials of the F.E.S. team, who are experts in developing tailored fuel solutions from metropolitan sites to the most remote areas, informed their innovative product design.
"Like us, F.E.S. TANKS was founded in regional Australia – by a team of experts with extensive practical experience," he said.

"The tanks they design are built to last, with practical features that make them exceptionally easy to use, transport and maintain – ideal for responding to the challenges of temporary and remote power requirements in WA and across regional Australia.

"We're pleased to distribute this industry leading product in WA – we know how important local connection is, and we look forward to working with F.E.S. to enhance their presence on the ground in the west and give our customers access to a top quality, Australian designed fuel storage solution."
Daryl Cygler, Marketing Director of F.E.S. TANKS also had this to add:
"Perth and the Western Australian region is an area of significant importance for growth and opportunities. It is also a massive region that comes with many logistical challenges, and this is where we feel our self bunded tanks can help. Having GHASA as our premium self bunded tank distributor in Perth, Western Australia just makes sense. Not only for us but for wanting customers as well."
About F.E.S. TANKS
F.E.S. TANKS has fast become the market leader in self-bunded fuel storage tanks in Australia. Established in 2013, their reputation for offering environmentally friendly fuel storage tanks with unique fuel dispensing and management solutions has lead to fast national growth and expansion. F.E.S. TANKS works with industries on the move to provide innovative next-generation fuel storage solutions designed to take business into the future. For more information, please visit https://www.festanks.com.au/.
About GHASA
Genset Hire and Sales Australia are the experts in temporary and remote power solutions. The team has more than 40 years' experience in power generation, and provides generators, fuel tanks, load banks, service and repairs for customers across Australia, with service technicians on-call 24 hours a day. For more information, please visit http://www.ghasa.com.au