More women driving big rigs is Heather's dream
Women make up just 1 per cent of Australia's long-haul truck drivers.
Pilbara Heavy Haulage Girls (PHHG) co-founder Heather Jones has been working to change that statistic since she traded in her office chair for a spot in the driver's seat 25 years ago, taking her two daughters with her on the road.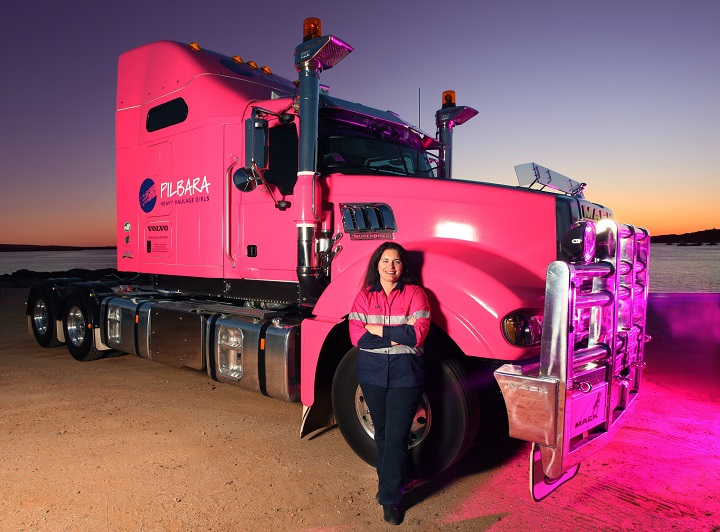 Heather grew up on a farm, the second eldest of nine children – the family also fostered 57 children over 18 years. She drove her first tractor at age four and loved cars and bikes.
She was working as a secretary at a mining company when the call went out for Haulpak drivers and she answered.
In 2004 she bought her first trucks and set up her own company, Success Transport. Within two years she had 16 drivers and 15-20 trucks servicing the mining, farming and shipping industries in some of Australia's most remote regions.
She still gets out on the road in addition to her role with PHHG, a not-for-profit which provides professional development and traineeship opportunities for women drivers.
F.E.S. TANKS interviewed Heather about the attractions and challenges of life on the road as a heavy vehicle driver in Australia.
What are the attractions of heavy vehicle driving for women in Australia?
Financial freedom and literal freedom. The entry level to driving a HR truck is very easy and it offers an extremely attractive financial package, dependant on the company you work for.
Once your truck is loaded you are your own boss, with no-one looking over your shoulder. Long haul is a lonely life, but that's the work I enjoy the most – time to really think and with no phones ringing, no phone service.
Do you still get out on the road?
Yes, as my transport company is a small company I still drive three days a week. If you do come off the road into the office you can forget the real challenges of driving, the long hard slog, and the battle with the motorists who have no idea! As a professional driver you are constantly saving motorists' lives by taking evasive action so you don't rear-end them or hit them head-on.
Currently I do a Karratha to Wheatstone run, (the Wheatstone LNG project at Onslow) in a triple road train. At least once a week I do local semi deliveries and I am a pilot escort as well, so the odd job comes up every few weeks.
The longest vehicle I drive is 53.5m (three trailers). So long as I am fit and able I will continue to drive at least two days a week, in an ideal world!
What is the most challenging route you've driven?
The most challenging runs would be when you have put in a big week or two or three, and you are doing the long haul home, say from Derby or Broome to Perth (about 2400km), and it just never seems that you are making a mile!
What are the biggest fuel issues for truck drivers in Australia? Have unmanned refuelling stops helped?
The biggest challenge is the availability of fuel after hours and in the areas where we need to access fuel. Ease of access for a triple or quad road train is important too.
Stand-alone unmanned refuelling stops are fabulous. We have a few up here and yes, we use them.
As professional drivers we also need a 24-hour manned fuel stop to go to every 600km or so that has a big parking area for trucks, a quiet drivers' room and a TV room, as when you are on the road you don't often keep up with the news. We can get limited ABC radio reception, but every 200km or so you have to tune into a new station.
Also at the manned truck stops we need showers – preferably free if you fuel up there – healthy meal options, washing machines and dryers to clean our clothes.
About 80 per cent of all trucks in Australia are owner-drivers, and we work day to day so the road houses become our home away from home. For example in November 2012 I received a call from one of my dear clients who asked if I could be ready in one hour to head over to a mine 650km away for a week. I was ready in two hours and I came back four months later!
How did Pilbara Heavy Haulage Girls begin?
In 2013 a group of us female truck drivers would meet every six weeks or so to have a drink and socialise. We got talking about the misconceptions about women drivers.
The five of us got together and formed the Pilbara Heavy Haulage Girls to promote the women behind the wheel already, to promote road safety and to open up an opportunity for more women to join us out on the road.
And the response?
We get a lot of support. Last year we had two prime movers donated for 12 months from Volvo Group Australia for us to train new drivers in. We also have three companies we sub-contract to who encourage us to have new drivers while we work. Two of these companies, Joyce Krane and QUBE Energy, have also donated offices and classrooms to us for our training.
Heather and the team at Pilbara Heavy Haulage Girls continue to work to encourage more women into the sector as a solution to looming heavy vehicle driver shortages, with the national road freight task predicted to double from 2010 to 2030.
---
We'd love to hear about your challenges on the road. Tell us your story below.