Australian Transport Operators, are you prepared for the biofuel evolution?
WITH new laws mandating the sale of biofuels set to take effect in NSW and QLD in January, during one of the road transport industry's busiest times of year, it's worth considering your fuel storage options if you run a heavy vehicle fleet.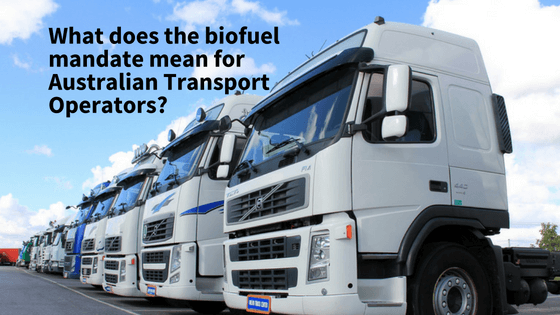 In both states, affected servos will have a target of converting 0.5 per cent of their diesel sales volume to biodiesel, which means B5 will need to account for about 10 per cent of all diesel sales.
The new laws will affect fuel retailers in both states from January 1. The good news is that the change is unlikely to cause serious issues for the transport industry, with most modern vehicles able to perform well on B5 biodiesel blends without a problem. However they do mean it's worth some extra effort when it comes to fuel storage and fuel systems maintenance.
What do biofuels mandates mean for Australian transport operators?
If you run a fleet of trucks, the impact of the biofuels change will depend on the vehicles you use and on how you manage your fuel and refuel your fleet.
For some, biofuels blends are already a major part of their operations. In South Australia, Peats Soil has worked closely with Adelaide University and Scania to develop a fleet which runs on 100 per cent biodiesel. The upside is reduced emissions and a reduced reliance on conventional suppliers.
On the other hand, for conventional fleets biofuel blends can lead to an increased risk of particulate matter travelling through fuel systems, and it is here that care needs to be taken. Poorly maintained diesel fuel is responsible for about 80 per cent of engine failures in the transport industry, and with a new diesel engine costing an average $8000 to overhaul, prevention is definitely better than cure.
In general, blends above B5 may require specialist engine maintenance but using a low blend will make very little difference to performance for most transport fleets. Potential issues can be minimised with proper maintenance regimes and improved fuel management to reduce fuel contamination.
Biodiesel storage and reducing fuel contamination
With Australian approvals for high-performance heavy vehicles reaching new heights in July-September, keeping your fuel in top condition will be more important than ever. Latest generation fuel injectors in diesel engines mean improved performance, but also increased sensitivity, so the experts advise spending a little extra time on getting the basics right.
Because biodiesel blends are able to absorb more water, making sure the fuel you buy is properly stored is the first step.
If you're storing your own fuel it's essential to test fuel quality regularly. Diesel bugs flourish at the interface between water and fuel and can spread rapidly, causing fuel to separate and generating particulate matter that can be deadly for high performance diesel engines.
Using a diesel biocide when you refill tanks is highly recommended. If you'll be storing a biodiesel blend for longer than three months it's also recommended that you ensure the tank is filled to minimise opportunities for water absorption from the air, which will in turn create more opportunities for diesel bugs to spread.
Biodiesel blends also tend to clean fuel systems, loosening dirt and old fuel deposits and carrying them to the vehicle's fuel filter.
While the effects of this are minimised in low blends, these changes still happen over time, particularly in older vehicles. Mechanics recommend that fuel filters in older vehicles be replaced after every few tanks of biodiesel blend. There's also a small risk of fuel system components like seals, hoses and gaskets degrading, so it's important to check components regularly.
At the storage end, tanks should be flushed and cleaned before they are used to store a biodiesel blend, particularly if there has been diesel bug contamination.
The right tank makes the difference
Ensuring the integrity of your fuel storage tanks – making sure they are free of leaks and corrosion – is easy when you're using the right tanks.
F.E.S. TANKS produces a range of self-bunded, low maintenance transportable tanks for the transport industry, with easy access manholes to make it cleaning and testing easy.
Our tanks are designed to keep biofuels safe in an environment that is efficient, reliable, durable and controllable.
We also provide a range of diesel biocides, and our expert technicians can give you the advice and support you need to ensure your fuel storage and fuel management systems will keep your business running at maximum efficiency.
If you should require any advice please don't hesitate to get in touch. Contact us today.