Farmers stay resilient in face of drought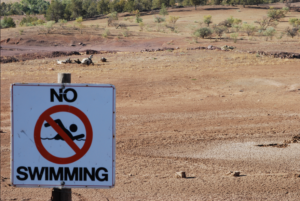 Australia's 135,000 farmers are tightening their belts as the severe drought gripping the eastern states deepens and forecasts point to a dry, hot spring and summer – but it's not all bad news.
While the Rabobank rural confidence index survey signals an expected drop in positive sentiment across regional Australia over the past three months – with 100 per cent of NSW and much of Queensland and Victoria in drought – it shows most farmers believe their businesses are well-equipped to weather the storm.
More than 93 per cent of around 1,200 farmer surveyed around Australia said they will remain viable for the next year even if the big dry continues or an El Nino event develops.
Rabobank Australia CEO Peter Knoblanche said farmers across the country are showing great resilience and adaptability to manage their businesses through worsening drought conditions.
"Parts of central and western Queensland have been in drought for seven years with only sporadic short-term relief, while the whole of NSW is drought-declared and its reach is spreading into South Australia and Victoria," he said.
"(But) the outlook for Australia's ag sector is fundamentally very sound, with strong commodity prices – particularly for lamb, bee, wool and cotton and, more recently, grain – ensuring the majority remain in overall strong positions.
"Farmers have managed through droughts before and have put in place the infrastructure and systems to try to mitigate the impact as best they can. That is not to say it isn't extremely challenging, especially in areas where it has been so prolonged."
Western Australia was the only state that bucked the trend, with improved conditions meaning 48 per cent of the state's farmers were expecting an increase in gross farm incomes.
Farmers in Tasmania and Western Australia were more likely to be planning to increase investment in their farm business.
New drought assistance measures announced
Meanwhile, while farmers in some areas are celebrating their first taste of rain in a long while, the Federal Government has appointed a new national drought co-ordinator and increased direct assistance and concessional loans to $1.8 billion.
Under the next phase of drought assistance:
The Drought Communities Programme will be expanded and receive an additional $75 million to help support 60 councils in drought-stricken areas, funding local community infrastructure and other projects, such as emergency water supply.
Primary producers can immediately deduct (rather than depreciate over three years) the cost of fodder storage assets, such as silos and hay sheds used to store grain and other animal feed storage, making it easier for farmers to invest in and stockpile fodder. The deduction will be available for storage assets first used or installed ready for use from August 2018.
The instant deduction is in addition to the $20,000 instant asset write-off already available for small businesses to support capital investment in infrastructure. The write-off is one way farm businesses can take measures to improve cost-efficiency, including upgrading farm fuel storage to maximise efficiency and reduce farm fuel costs.
The Government is doubling the amount a farmer can borrow in low-interest loans to $2 million and increasing the total amount available for these loans to $500 million in any one year. These loans will assist with financing immediate needs such as purchasing feed and fodder. The first five years of these loans will remain interest only. Farmers with existing government loans will also be able to refinance to take advantage of the interest-only concessional period.
An additional $23.7 million will be provided to improve drought resilience by extending the Great Artesian Basin bore capping program that plugs abandoned bores and replaces free-running channels with new water-efficient piping.
There will be a special drought round under the National Water Infrastructure Development Fund that will provide up to $72 million for water infrastructure in drought-affected areas.
An additional $2.7 million will be provided to allow the Bureau of Meteorology to develop new finer scale regional weather and climate guides, helping farmers make decisions about crop planting and stocking levels by better understanding their local climate risks.
NSW freight changes support hay transport to drought-affected farmers
In NSW, the State Government has taken action to change freight dimension allowances to reduce prices for farmers forced to look further afield to source cattle feed.
The change will allow eligible vehicles transporting hay to travel under notice and without a permit with loads 2.83m wide and up to 4.6m high on approved roads.
Minister for Roads, Maritime and Freight, Melinda Pavey, said for vehicles that weren't eligible the process for obtaining a permit would be made easier.
NSW is also offering a transport subsidy of $20,000 per farm business to cover 50 per cent of the full cost of freight up to a maximum of $5 per kilometre and 1,500km per journey.