Changes to AS1940:2017 and what this means for you?
Are you up to date with changes to fuel storage regulations?
Australian Standard 1940 (Storage and Handling of Flammable and Combustible Liquids) was formally updated in August 2017. This change is important, because the standard forms an important reference for our State and Territory fuel storage legislation.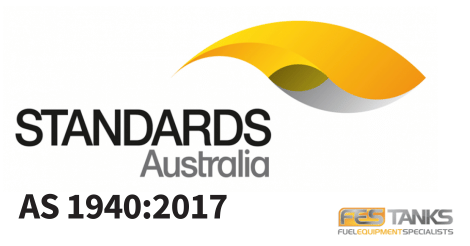 Significant changes include:
Self Bunded Tanks: The maximum capacity of self-bunded tanks has been increased to 200,000 litres for combustible liquids on mine sites, allowing more economical storage of fuel on site and creating greater opportunity for flexible fuel storage options.
Liquid levels in tanks: AS1940 now limits a tank's Safe Fill Level to no greater than 95 per cent of tank capacity. For above-ground flammable liquid tanks over 5,000 litres, or 25,000 litres for combustible liquid, a high-level alarm is now required.
Spill response: A spill response kit is now a mandatory requirement for sites handling Class 3 flammable liquids. The kit should consist of "some or all of absorbent pads, booms, loose absorbent and contaminated waste bags that are packed in a readily identifiable reuseable weather-resistant container and are compatible with liquids stored".
Can I still store flammable product in above-ground tanks?
The short answer is yes. Standard Category 3 above-ground self-bunded diesel tanks can also be used to store Flammable Product like motor spirits, but there are specific signage and venting requirements. If you're ordering a tank for this purpose, it's important to let us know so we can supply the correct tank for your application.
You can find detailed information about the storage of flammable liquids in AS1940-2017.
The key points you need to be aware of are:
Identify the hazardous area: The biggest difference between on-ground Diesel Storage (combustible) and motor spirit storage is the hazardous area that it creates. Basically, this is the area in which an explosive is present in quantities large enough to require special precautions for the construction, installation and use of potential ignition sources.
Choose a location: When choosing a location for above-ground flammable storage there are many legislative requirements. Location of your tank will need to adhere to the tables outlined in the Standard. Special circumstances may be granted if tanks or firewalls can be built to maintain a Fire Rating Level of 240/240/240.
Electrical installation: Electrical installation requirements are particularly stringent in flammable storage, and must comply with AS3000. All electrical equipment within a hazardous area must have correct explosion-proof connections and fittings. It is always good practice prior to any installation to have a Hazardous Area Zoning completed by a competent person as per AS60079.10, to ensure the correct equipment is assigned and approved for that application.
Signage: This is a key aspect of flammable storage. All signage must be upgraded to comply with regulations.
Hatches and vents: AS1940-2017 requires that explosion-proof hatches and PV vents be fitted to flammable storage tanks. The size of these will vary according to tank storage volume.
Dispenser: When storing flammable liquids, the dispenser needs to be mounted remotely from the tank due to the Hazardous Area Zoning around the tank.
Ask the fuel experts
There's no substitute for experience. When it comes to storing flammable liquids safely and in compliance with the Australian Standard and State and Territory regulations, getting the right advice from the start can save you money, reduce risk and give you peace of mind.
The new standard now applies to all service stations and bulk fuel facilities as well as other sites where flammable and combustible liquids are stored.  If you're not sure whether you're still compliant, call our expert team at F.E.S. TANKS.